How To Use Your Omron HJ-303 Pedometer
Navigating the Displays
The display, by default, shows absolutely nothing to stretch out the battery life of your device. To view the display, press any of the buttons on the front of your pedometer. You have three to choose from: Memo, Mode, and Clr (which I'll call the clear button for the rest of this page). After 5 minutes with no buttons being pressed, the display will go blank again, but the pedometer will continue counting steps.
Ultimately, you can navigate through 25 pages of data! Three pages represent today's counts, 21 pages represent historical counts for the past week, and 1 page is used for the trip counter.
The mode button will change the type of data that's displayed on your pedometer, while the memo button is used to select how old the data should be—anywhere from today to 7 days into the past. The clear button, strictly speaking, isn't useful for navigating the pages of data—but if you are viewing historical data, it will jump you immediately to today's data. Multiple clicks of the memo button would get you to the same place eventually, however, which is why you really don't have to think too much about the clear button. Not for navigation purposes, at least.
This might sound complicated in words, but a flow chart shows just how elegant and easy it is to navigate your way through 25 pages of data.
Memo Button Sequence
Today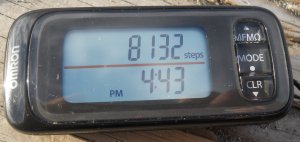 Memo
↓
Yesterday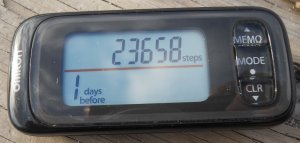 Memo
↓
2 Days Ago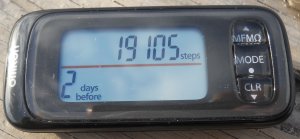 Memo
↓
3 Days Ago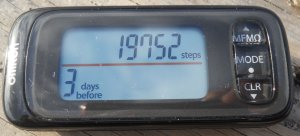 Memo
↓
4 Days Ago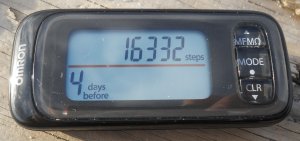 Memo
↓
5 Days Ago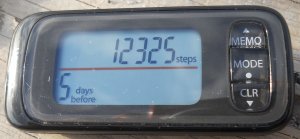 Memo
↓
6 Days Ago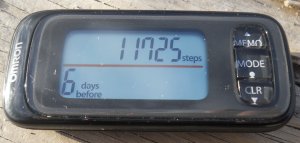 Memo
↓
7 Days Ago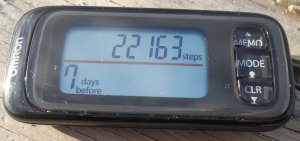 Memo
↓
Mode Button Sequence
Step Counts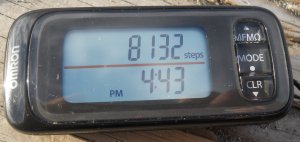 Mode
↓
Moderate Activity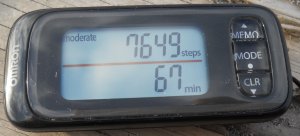 Mode
↓
Calories & Distance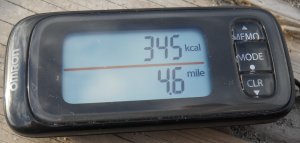 Mode
↓
Trip Counter
Mode
↓
You can switch between either path at any time. The memo button changes the date of the data while the mode button changes the type of data displayed for that day.
By using both buttons, for example, you could navigate to the number of calories burned yesterday (1 memo press and 2 mode presses), or the number of minutes of moderate activity you had 4 days ago (4 memo presses and 1 mode press).
Trip Step Counts
Your pedometer will count your steps all day long, then reset to zero at midnight each night. Sometimes, however, you'll want to start counting from zero later in the day or even across multiple days. It's especially useful for measuring your step count while calibrating for your stride on a known distance. Regardless of your reasons, however, that's where the trip step counter comes into play. To reset your trip counter to zero, follow these steps:
Navigate the display to the trip step count page.
Press and hold the clear button for two seconds. The day count will change into a blinking Clr.

Press the clear button again to confirm the reset. Pressing any other button or doing nothing will cancel the reset.

The trip display will continue counting your steps, day after day, for up to 3,999 days (about 11 years!) and up to 999,999 steps.