Privacy Policy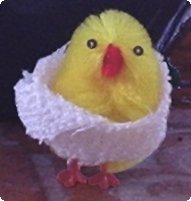 In a nutshell, we treat your information like we would want our own information treated. We won't sell your name or email address to spammers or advertisers. We'll do our best to protect your private information, but admittedly, hackers are a creative lot and we cannot make any guarantees against unauthorized access by such evil-doers. And believe it, there are hackers who try to get unauthorized access to our web server on a daily basis.
Children's Privacy
This is not a site meant for children, but we do not prohibit minors from using the site either. Children should always get permission from their parents before sending any information about themselves (such as their names and email addresses) over the Internet and that is no exception here.
Types Of Information We Collect
The information we gather falls into two categories: (1) information that you voluntarily supply (such as your email address when you create an account) and (2) usage patterns and preferences while using our services. Third party providers may gather this sort of information on our behalf.
Our web servers automatically collect limited information about your computer configuration when you visit our site, including (but not limited to) browser type, operating system, the website that referred you and your IP address. We use a feature called "cookies" to track your movement throughout our website. All this is pretty standard stuff for basically any website you visit.
Much of the information you provide voluntarily (such as your email address) we will work to keep private. If you choose to include fake information, however, there will be no penalties. You are more than welcome to provide a fake email address or name if you feel it will better protect your identity, but if you do forget your password, you may have no options to access your account again. The private information you provide is how we can verify that you are who you claim to be.
Disclosure Of Information
When you register an account on Walking4Fun.com, we'll ask for your email address, password, your preferred unit of measurement (e.g. miles or kilometers) and which trail to use for your virtual walk. All of this information is completely private and will not be shared with others except for the trail you'll be walking—the trail you'll be walking and your position on it will be publicly available.
After registering, you can add additional information about yourself including your age, gender, weight, height, stride and such. This information will stay private.
You'll also have the opportunity to include your name and/or trailname. You'll have the option to keep your name and/or trailname private or allow the public at large to see it. If you prefer keeping it private, you'll be given the option to create a display name that will be used instead of your real name or trailname. We will, however, allow people to run a search based on your real name so friends and family can find you and friend you. If you want to stay truly anonymous so even friends and family cannot find you, do not provide your name—or at least not your full name.
Take a look at this profile page. This belongs to the creator of this website, and this is the sort of information on the website that others will be able to see about you. The interview questions, obviously, are optional.
Our servers are run by a third party who may, technically speaking, have access to your personal information, but we have no reason to believe that they would be monitoring or looking for such information. Their job is just to keep our servers running fast and efficiently, and anything outside of that scope is not in their interest.
Statistical Information: Much of the information we collect is in the form of aggregated statistics, such as the amount of traffic that visits various pages within our sites and the habits and preferences of our members. Statistics are fun, and we'll certainly use any personal information you provide in some sort of statistic at some point. However, such aggregated information will never include any information that would identify you personally.
Advertisers: We currently use Google AdSense to provide advertisements on our website. While we do not provide Google with any information about you, they will—without a doubt—collect information about webpages and websites that you visit in order to serve ads that better target you. Check their privacy policy to see what sort of information they collect and how they might use it. At the time of this writing, the Google AdSense program has this requirement: AdSense publishers must have and abide by a privacy policy that discloses that third parties may be placing and reading cookies on your users' browsers, or using web beacons to collect information as a result of ad serving on your website. Consider this your disclosure! Premium members that are logged into their account will not see Google ads and therefore Google will have no way to track you.
We'll often also display links to Amazon.com—typically for products we love and recommend—but we do receive a commission for any sales made. Like Google, we do not provide Amazon.com with any of your personal information but they'll undoubtedly collect information about the webpages and websites that you visit and you should check their privacy policy to see how it might be used.
Sites to Which We Link: Our site includes links to other websites, and we (usually) have no control over the privacy policies of these websites. When you access another site to purchase products or services or conduct other transactions, use of any information you provide is governed by the privacy policy of the operator of the site you're visiting. Except for the already-mentioned Amazon and Google ads, we are not compensated in any way for promoting or endorsing the links. They are meant for informative purposes or because we are big fans of them and no other reason.
Other Disclosures: We may occasionally release information about our visitors when release is appropriate to comply with law, to enforce our Terms of Service, or to protect the rights, property or safety of visitors to our site, the public or our customers.
Opting Out
If you register with us, you will have the opportunity to review, update or delete the information you have provided us at any time (assuming we stored the information in the first place). If you remove your registration information completely, you may not be able to continue using services that require registration. You agree that we may use your information to contact you for customer service or any communications relevant to your use of our site. If you do not wish to receive these notices, you will have the option to opt out.
Storage Of Information
All information gathered on our site is stored within a database operated by us or by a contractor on our behalf. Sensitive information, such as your password, is encrypted for storage. However, as effective as encryption technology is, no security system is impenetrable. We cannot guarantee the security of our database, nor can we guarantee that information you supply won't be intercepted while being transmitted to us over the Internet.
Changes To This Privacy Policy
The web is an evolving medium. We may need to change our privacy policy. Minor changes that we feel are of little significance may not be officially announced, but the current policy will always be readily available here.