Camino Portugués: Camino de la Costa, Variante Espiritual
a.k.a. Caminho Portugués (in Portuguese) and Portuguese Way (in English)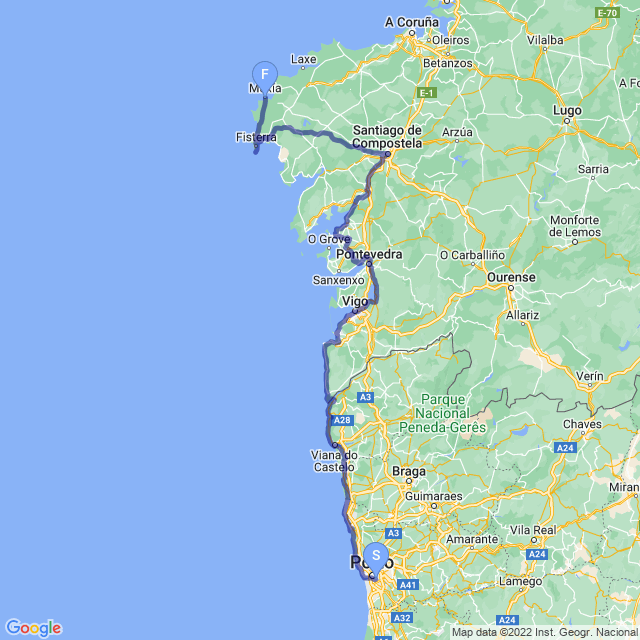 Hiked:
Oct 1, 2016—Oct 31, 2016
Walk Trail!
The Camino de Santiago—the world's most popular pilgrimage route leading to Santiago, Spain—the final resting place of St. James (allegedly). There are many paths to Santiago, but this route focuses on the shoreline route of the Portuguese Way from Porto (in Portugal) to Santiago. Those in the know might call it the Coastal Way (or Caminho da Costa in Portuguese or Camino de la Costa in Spanish) to distinguish it from the more inland route known as the Central Way.
But... I didn't stick strictly to the Coastal Way either. For the most part, I tried to take whatever route was closest to the shoreline. Most of that is along the Coastal Way, but I also followed the Seashore Path, the Spiritual Variant, a couple of short sections of the Central Way to connect the pieces, and extended the walk to Finisterre then on to Muxía. It's really quite the hodgepodge of trails! But the one thing they have in common is that I tried to stay as close to the shoreline as possible for the water views.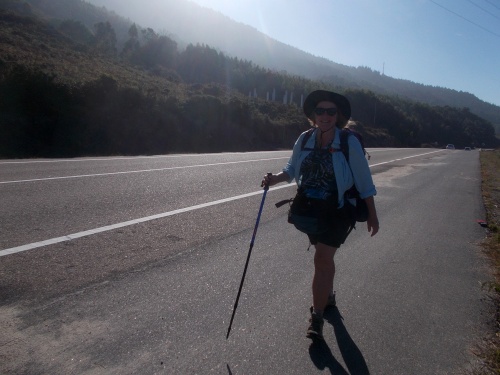 Also—a first for these trails—Amanda joined me for much of the route! She walked about 150 miles (240 km) from Porto to Santiago, so you'll see her a lot more often on this route than her occasional visits as a trail angel on the other routes.
On this route, you will walk past terraced fields, lush forests, vineyards, sleepy villages and wind-swept beaches. It's a beautiful area to walk!
Spiritual Variant
The Spiritual Variant, or Variante Espiritual in Spanish, isn't well known—at least not at the time this hike was undertaken—but the story goes that in 44 AD, after the death of the apostle St. James, his remains were taken by boat across the Arousa estuary and up the Ulla River until reaching Iria Flavia (now the village of Padrón). A boat will now take pilgrims along this water route, although wanting to keep this a walking trail for Walking 4 Fun, I took the foot path instead. For anyone thinking about hiking the Portuguese Way, take the Spiritual Variant—it's awesome! But the boat would probably be more fun than the poorly-marked footpath that I followed. The Spiritual Variant is very well marked—up until you reach the boat. They really dropped the ball after passing the boat, however, probably assuming most pilgrims are taking the boat so why bother marking the footpath well?
Stage Name
Length
(miles)
Position
(miles)
1.
Porto → Vila do Conde
21.7
0.0 → 21.7
2.
Vila do Conde → Esposende
15.7
21.7 → 37.3
3.
Esposende → Viana do Castelo
15.9
37.3 → 53.3
4.
Viana do Castelo → Caminha
17.6
53.3 → 70.9
5.
Caminha → Mougás, Spain
15.0
70.9 → 85.9
6.
Mougás → San Pedro
10.7
85.9 → 96.7
7.
San Pedro → Vigo
14.4
96.7 → 111.0
8.
Vigo → Redondela
9.8
111.0 → 120.8
9.
Redondela → Pontevedra
12.6
120.8 → 133.3
10.
Pontevedra → Armenteira
13.0
133.3 → 146.4
11.
Armenteira → Vilanova de Arousa
14.9
146.4 → 161.3
12.
Vilanova de Arousa → Padrón
19.0
161.3 → 180.3
13.
Padrón → Santiago
15.5
180.3 → 195.7
14.
Santiago → Negreira
13.7
195.7 → 209.4
15.
Negreira → Olveiroa
20.5
209.4 → 229.9
16.
Olveiroa → Faro de Fisterra
21.7
229.9 → 251.6
17.
Faro de Fisterra → Muxía
19.3
251.6 → 270.8