Camino Portugués: Central Way
a.k.a. Caminho Portugués (in Portuguese) and Portuguese Way (in English)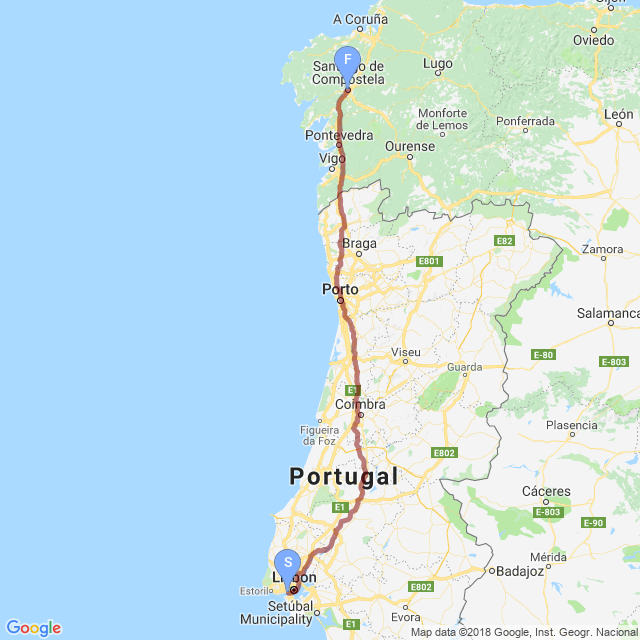 Hiked:
Sep 17, 2016—Oct 27, 2016
Walk Trail!
Many pilgrim paths lead to Santiago de Compostela, but the Portuguese Way is among one of the most popular alternative options for getting away from the increasingly crowded Camino Francés. We've listed two different Portuguese routes on Walking 4 Fun, the other being the coastal route from Porto to Santiago (and beyond).
This route, the central route, begins in Lisbon, the beautiful capital of Portugal and home to several UNESCO sites. The route passes through multitudes of small villages and towns and through farms, forests and the countryside. You'll walk pass ancient forts, cross over medieval bridges and follow in the footsteps of countless thousands of pilgrims who traveled before you on their way to St. James's final resting place in Santiago.
Although a pilgrimage route, the trail is open for people of all faiths and from around the world.
If you've decided to virtually walk the Portuguese Way, you'll likely be trying to decide whether to do the coastal or central route—or both. In fact, I had so much trouble trying to decide which route I wanted to hike, I wound up doing them both! When I flew out to Lisbon, it was my intention to only walk the trail once. It wasn't until a month into my journey that I decided to do them both to make sure I missed nothing!
The coastal route will have more ocean and beach views, while the central route more often has you walking through farms and forests. Amanda joined me for the coastal route so you'll see photos of her much more often on that route, but she did ditch it near the end and stayed on the central route for two stages. So she'll show up on both routes, but she shows up much more often on the coastal route.
The biggest difference between the two is perhaps their starting points. Both trails go through Porto, but the central route begins in Lisbon—over 200 miles (320 km) away from Porto while the coastal begins right there in Porto. The central route ends at the cathedral in Santiago—the traditional end of the pilgrimage—while the coastal route continues on to the 'end of the world' at Fisterra then on to Muxía.
For those planning to do a real-life journey on the Portuguese Way, I'd suggest the coastal route. While the central route has its moments, I think the beaches and oceans on the coastal route are prettier overall, less crowded and very few pilgrims have the time or desire to start way back in Lisbon. Porto is a much more popular starting point and probably a better fit for most people's schedules.
But they're both wonderful trails, and regardless of which one you do, you're not likely to be disappointed!
Stage Name
Length
(miles)
Position
(miles)
1.
Lisboa → Alverca do Ribatejo
21.4
0.0 → 21.4
2.
Alverca do Ribatejo → Azambuja
18.4
21.4 → 39.8
3.
Azambuja → Santarém
20.1
39.8 → 59.9
4.
Santarém → Golegã
20.3
59.9 → 80.2
5.
Golegã → Tomar
18.4
80.2 → 98.6
6.
Tomar → Alvaiázere
19.1
98.6 → 117.7
7.
Alvaiázere → Rabaçal
20.2
117.7 → 137.9
8.
Rabaçal → Coimbra
18.3
137.9 → 156.2
9.
Coimbra → Mealhada
14.9
156.2 → 171.1
10.
Mealhada → Águeda
15.8
171.1 → 186.9
11.
Águeda → Albergaria-a-Velha
10.7
186.9 → 197.6
12.
Albergaria-a-Velha → São João
18.1
197.6 → 215.7
13.
São João → Porto
21.3
215.7 → 237.0
14.
Porto → Vilarinho
16.7
237.0 → 253.8
15.
Vilarinho → Barcelos
17.6
253.8 → 271.3
16.
Barcelos → Ponte de Lima
20.9
271.3 → 292.2
17.
Ponte de Lima → Rubiães
11.2
292.2 → 303.4
18.
Rubiães → Tui, Spain
12.0
303.4 → 315.4
19.
Tui → Redondela
20.1
315.4 → 335.6
20.
Redondela → Pontevedra
12.2
335.6 → 347.8
21.
Pontevedra → Caldas de Reis
13.4
347.8 → 361.2
22.
Caldas de Reis → Padrón
11.2
361.2 → 372.4
23.
Padrón → Santiago
16.1
372.4 → 388.5