Pacific Northwest Trail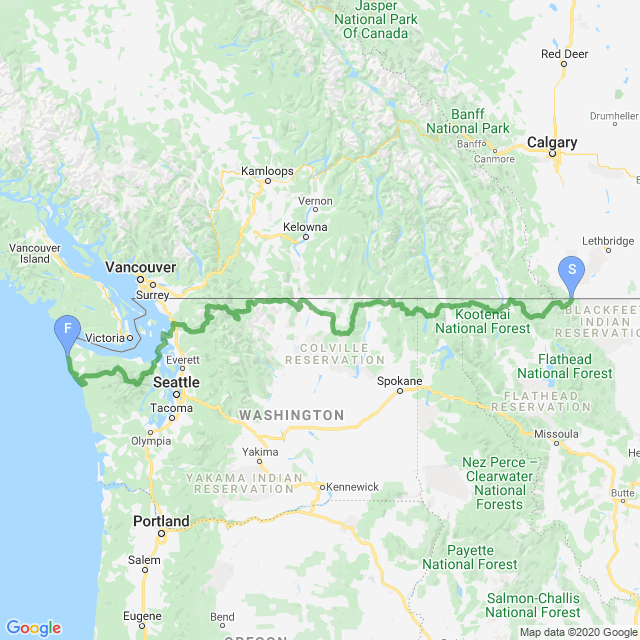 Length:
1,238.8 miles
Steps:
2,809,945 steps
Burned:
159,236 calories
Hiked:
July 16 — Aug 31, 2019
July 22 —Sept 7, 2020
Walk Trail!
There are 11 designated National Scenic Trails (at least as of 2020), and the Pacific Northwest Trail (PNT) is considered the most difficult of them all. It's extremely remote, the trail is often overgrown and blocked with blowdowns—if it exists at all because sometimes there is absolutely no trail at all. The route leads into the backcountry and requires good navigation skills, difficult bushwhacking and a strong sense of self-preservation. Obstacles span from snow-covered mountains to searing deserts, lack of water sources (or polluted water sources) and extreme loneliness.
The Pacific Northwest Trail is a brutal, brutal trail, but runs through some of the most spectacular scenery in America. It begins in Glacier National Park in Montana where it crosses over the Continental Divide, through the panhandle of Idaho before entering Washington state where it passes through the North Cascades National Park, across Puget Sound, through Olympic National Park before finishing at the Pacific Ocean 1200 miles (~2000 km) later.
If you're looking for adventure, you've found it in the Pacific Northwest Trail!
Stage Name
Length
(miles)
Position
(miles)
1.
East Glacier
27.7
0.0 → 27.7
2.
West Glacier
23.0
27.7 → 50.7
3.
Polebridge, MT
18.6
50.7 → 69.3
4.
Whitefish Divide
20.6
69.3 → 89.9
5.
Mount Wam
33.5
89.9 → 123.4
6.
Eureka, MT
29.1
123.4 → 152.5
7.
Webb Mountain
15.9
152.5 → 168.4
8.
Mt Henry & the Yaak River
24.5
168.4 → 192.9
9.
Garver Mountain to MT/ID Border
30.5
192.9 → 223.4
10.
Moyie River
29.4
223.4 → 252.8
11.
Bonners Ferry, ID
11.0
252.8 → 263.8
12.
Parker Ridge
18.8
263.8 → 282.6
13.
Lion Creek Bushwhack
14.0
282.6 → 296.6
14.
Priest Lakes to ID-WA Border
23.8
296.6 → 320.4
15.
Shedroof Divide
23.0
320.4 → 343.4
16.
Metaline Falls, WA
16.4
343.4 → 359.8
17.
Abercrombie Mountain
21.9
359.8 → 381.7
18.
Northport, WA
24.2
381.7 → 405.9
19.
Kettle River (east)
22.5
405.9 → 428.4
20.
Kettle River (west)
18.7
428.4 → 447.1
21.
Kettle Crest
34.9
447.1 → 482.0
22.
Republic, WA (east)
25.5
482.0 → 507.5
23.
Republic, WA (west)
26.7
507.5 → 534.2
24.
Maple Ridge
14.8
534.2 → 549.0
25.
Bonaparte Lake & Mtn
22.1
549.0 → 571.1
26.
Oroville, WA (east)
23.9
571.1 → 595.0
27.
Oroville, WA (west)
14.5
595.0 → 609.5
28.
Palmer Lake
21.6
609.5 → 631.1
29.
Horseshoe Basin
20.8
631.1 → 651.9
30.
Cathedral Lakes
18.6
651.9 → 670.5
31.
Pasayten River (east)
17.5
670.5 → 688.0
32.
Pasayten River (west)
16.8
688.0 → 704.8
33.
Pacific Crest Trail
13.1
704.8 → 717.9
34.
Devils Dome, Pasayten Wilderness
17.0
717.9 → 734.9
35.
Ross Lake DNR
32.1
734.9 → 767.0
36.
North Cascades NP
28.5
767.0 → 795.5
37.
Mt. Baker Wilderness
30.1
795.5 → 825.6
38.
Baker Lake
25.8
825.6 → 851.4
39.
Concrete Detour
28.6
851.4 → 880.0
40.
Wickersham, WA
23.2
880.0 → 903.2
41.
Anderson Mountain
15.9
903.2 → 919.1
42.
Chuckanut, Edison
24.5
919.1 → 943.6
43.
Anacortes, Fidalgo Island
22.4
943.6 → 966.0
44.
Whidbey Island
34.4
966.0 → 1,000.4
45.
Port Townsend, WA
24.7
1,000.4 → 1,025.1
46.
Olympic National Forest
32.2
1,025.1 → 1,057.3
47.
Dosewallips, Olympic NP
27.9
1,057.3 → 1,085.2
48.
Elwha, Olympic NP
30.6
1,085.2 → 1,115.8
49.
Sol Duc, Olympic NP
20.3
1,115.8 → 1,136.1
50.
Bogachiel, Olympic NP
22.2
1,136.1 → 1,158.3
51.
Forks, WA
31.1
1,158.3 → 1,189.4
52.
South Coast, Olympic NP
20.4
1,189.4 → 1,209.8
53.
North Coast, Olympic NP
29.0
1,209.8 → 1,238.8