Kungsleden Trail (the King's Trail) of Sweden
Hiked:
Aug 15, 2018—Sep 15, 2018
Walk Trail!
The Kungsleden Trail (a.k.a. the King's Trail) is arguably the most famous long-distance trail in Scandinavia, running from Hemavan to Abisko in northern Sweden. This is the first trail listed on Walking 4 Fun in Sweden, it's the first trail to venture above the Arctic Circle and the first trail where you'll see the northern lights and reindeer.
The Kungsleden was developed by the Swedish Tourist Association in order to facilitate access into the Swedish Mountains. Trail were created in the early 1900s, but initially this trail was not marked or named. It wasn't until 1928, "without any ceremony or inauguration" that the name Kungsleden first appeared with the opening of the Kvikkjokk station, and the trail stretched only from Abisko to Kvikkjokk.
In 1941, the trail was extended south to Jäkkvik, and in the 1950s it continued further south finally reaching Ammarnäs. It wasn't until 1975 that the trail was officially extended to Hemavan, the present-day southern terminus of the Kungsleden Trail.
Although this virtual walk covers the summer hiking route, the trail is also open in the winter for skiers and snowmobilers with slight variations in the route.
The trail passes over several lakes that require either a rowboat or a charter boat to cross, and along most of the trail you'll find huts where you can sleep, buy supplies from a small store and get out of the elements.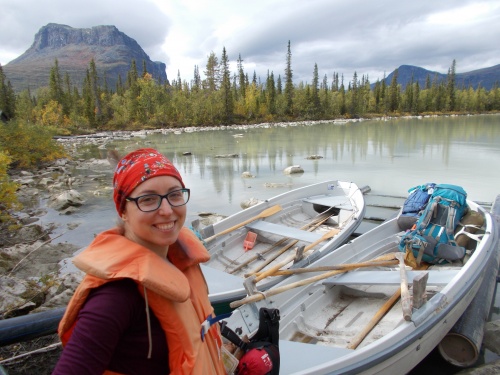 And this trail includes a special guest—the return of Karolina! Karolina, who you might remember most recently from the John Muir Trail will be joining us again for this adventure! She's from Poland and—at the time of this hike—was living in the Netherlands.
On this virtual walk, we'll take a few off-trail detours to explore some particularly scenic and interesting sights such as Skierfe (one of the most spectacular viewpoints in the country) and Kebnakaise (the highest point in Sweden). But most of the time, we'll stick to the main trail. When we do detour off trail, however, it's because there's something awesome off trail!
Traditionally, it seems that most people prefer to hike this trail from the north to the south, but we'll go against the flow for a few reasons. We wanted to hike with the sun to our backs and hit the most popular part of the trail (the northern section) late in the season when fewer people would be around. And... the northern section is widely considered the most beautiful section and we wanted to save the best for last! The whole trail is beautiful, though. *nodding*
Stage Name
Length
(miles)
Position
(miles)
1.
Hemavan
15.9
0.0 → 15.9
2.
Lake Tärnasjön
23.3
15.9 → 39.2
3.
Ammarnäs
24.2
39.2 → 63.4
4.
Björkfjället Mountain
15.6
63.4 → 79.0
5.
Adolfström
21.0
79.0 → 100.0
6.
Jäkkvik
15.0
100.0 → 115.0
7.
Arctic Circle
17.8
115.0 → 132.8
8.
Tsielekjåkk
19.5
132.8 → 152.3
9.
Kvikkjokk
10.3
152.3 → 162.6
10.
Aktse
14.5
162.6 → 177.0
11.
Skierfe Detour
12.6
177.0 → 189.6
12.
Saltoluokta
11.8
189.6 → 201.4
13.
Filling The Gap
3.1
201.4 → 204.5
14.
Teusajaure
15.5
204.5 → 220.1
15.
Kebnekaise Detour
15.5
220.1 → 235.6
16.
Kebnekaise Summit
11.2
235.6 → 246.8
17.
Kebnekaise Detour (return)
15.5
246.8 → 262.3
18.
Vista Detour
11.8
262.3 → 274.1
19.
Vista Detour (return)
11.2
274.1 → 285.3
20.
Alesjaure
11.2
285.3 → 296.5
21.
Abisko
11.8
296.5 → 308.3