Mount Kilimanjaro (Northern Circuit)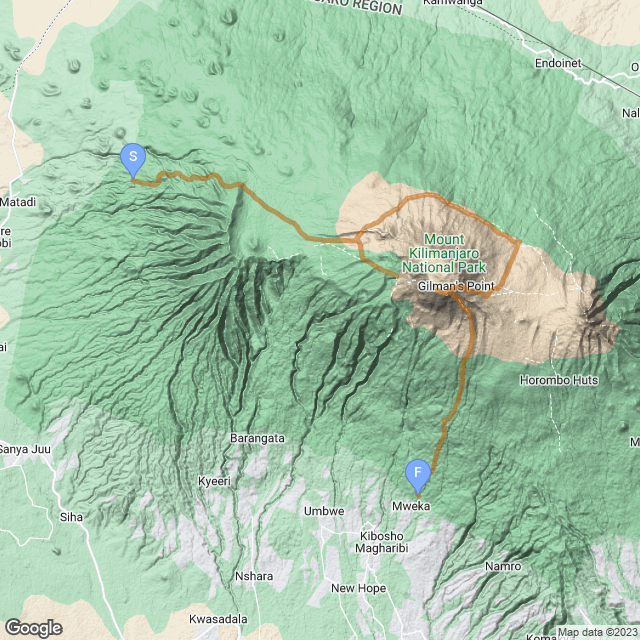 Hiked:
Feb 26, 2023—Mar 6, 2023
Walk Trail!
Mount Kilimanjaro is the tallest mountain Africa, stretching 19,341 feet (5,895 m) above sea level. Often called the "Roof of Africa," it's the highest mountain on earth one can climb without any technical gear or skills. Even Everest Base Camp isn't as high as the top of this mountain! It's also the highest single free-standing mountain above sea level in the world.
The mountain is located in Eastern Africa in the country of Tanzania. It's a dormant volcano and has three volcanic cones: Kibo, Mawenzi, and Shira. Kibo is the tallest, and this route will take you to the very top.
There are many routes to the top, and Karolina and I signed up for one of the longest ones. The success rate for summiting goes up dramatically the slower one takes getting to the summit, and we didn't want to pay thousands of dollars and travel thousands of miles just to fail. Acclimating takes time, so we took our time. And anyhow, who knows if we'd ever be in this area again? Why rush things? It would also give us time to take a longer route and see more along the way.
So we signed up for the 9-day Northern Circuit route with Popote Africa. This is not a paid endorsement. We paid full price for our trip and have received no sort of compensation for mentioning them, but we were very satisfied and happy with their service and have no qualms about recommending them. If you're looking to book a trip to Kilimanjaro, Popote will treat you well.
The trail runs through several environments from hot, forested jungles to the bitter-cold, glacier summit. It's not a long trail, but it certainly covers a wide variety of terrain!
Climbing Kilimanjaro is a particularly expensive hiking trip as far as hikes go. The fees are expensive and guides are required, so this route will only be available for premium members. Those premium member fees make the ability to add hikes such as this possible, and thank you so much for all your support!
If you're thinking about hiking this trail (and route!) in real life, you might want to download the GPS tracks I took of the route. If you take a different route... well, I don't have GPS tracks for you. Sorry!
Stage Name
Length
(miles)
Position
(miles)
1.
Lemosho Route
3.5
0.0 → 3.5
2.
The Elephant
5.3
3.5 → 8.8
3.
Moir Camp
7.1
8.8 → 15.9
4.
Lava Tower
6.1
15.9 → 22.0
5.
Buffalo Camp
6.2
22.0 → 28.2
6.
Third Cave
3.8
28.2 → 32.0
7.
Base Camp
3.5
32.0 → 35.5
8.
Summit Day
8.9
35.5 → 44.4
9.
Mweka Gate Exit
7.5
44.4 → 51.9