GR20 through Corsica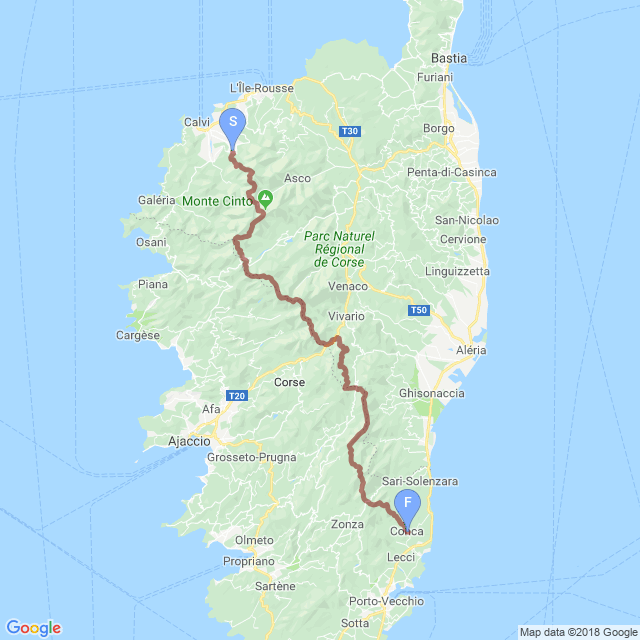 Hiked:
Sep 11, 2015—Sep 26, 2015
Walk Trail!
The GR20 is one of many GR routes throughout Europe, but this one runs along the crest of the Mediterranean Island of Corsica from (roughly) north to south. It's called by many as the most difficult GR route and if you take this virtual walk, you'll soon find out why! The route includes chains bolted to some of the steeper sections to help hikers get up and down the slopes, and on some of those exposed ridges, strong winds and cold can be outright dangerous. The year Karolina and I hiked the trail, seven hikers died in a landslide. Despite its difficulties, however, the trail's spectacular scenery keeps people coming back year after year. The rugged mountains are breath-taking, and even from the most inland mountaintops, the vast Mediterranean Sea spreads out in the distance.
Corsica, as you probably know, is an island in the Mediterranean Sea off the coast of Italy, but it's actually a part of France rather than Italy so French is the predominant language. Locals may use the native language of Corsican, but everyone knows French. From 1755 through 1769, the island was an independent country until it was annexed by France. Because of its close proximity and historical ties to Italy, you'll find elements of Italian culture throughout the region.
Corsica's most famous resident is Napoléon Bonaparte who was born in the capital city of Ajaccio. That's why you'll find many postcards of him, the airport in Ajaccio named after him and generally references to him everywhere. They're proud of their native-born son! There is no evidence, however, that Napoléon ever hiked the GR20—not the least of which is because the GR20 wasn't built until the 1970s. =)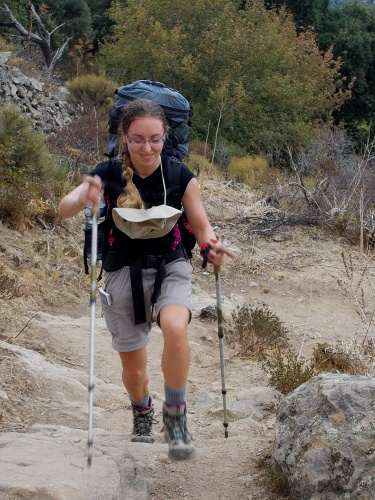 As for this virtual walk, we have a guest! Karolina, who you might remember from the Camino Francés and the Scottish Highlands Way will be joining us for this adventure! In all honesty, we'll be joining her for this adventure since this particular hike was actually her idea and I tagged along. She knows a little French and she'll be our interpreter. She also makes a fine model to give the photos scale that they often lacked and is much more interesting to talk with than I am. She's from Poland, you know!

Stage Name
Length
(miles)
Position
(miles)
1.
Calenzana to Haut Asco
16.2
0.0 → 16.2
2.
Haut Asco to Castel di Verghio
17.4
16.2 → 33.6
3.
Castel di Verghio to Petra Piana
16.8
33.6 → 50.3
4.
Petra Piana to Vizzavona
11.8
50.3 → 62.1
5.
Vizzavona to Bocca di Verdi
18.6
62.1 → 80.8
6.
Bocca di Verdi to Refuge d'Asinau
20.5
80.8 → 101.3
7.
Refuge d'Asinau to Conca
16.8
101.3 → 118.1