Scottish Highlands Way: Glasgow to Inverness
West Highland Way (WHW) & Great Glen Way (GGW)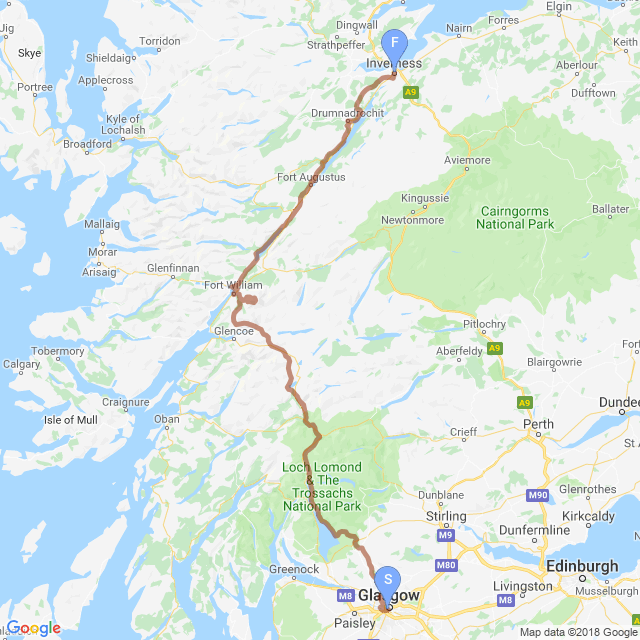 Hiked:
Sep 6, 2014—Sep 19, 2014
Walk Trail!
The Scottish Highlands—just the name provokes images of legends and mysteries, and this walk will take you right through their heart. The walk starts at Central Station in downtown Glasgow (most definitely not part of the Highlands), but quickly leaves town following several small paths to the small suburb of Milngavie: the start of the West Highland Way and the beginning of the Scottish Highlands.
Opening in 1980, the West Highland Way is Scotland's first long-distance footpath stretching almost 100 miles from Milngavie to Fort William. In 2010, it was co-designated as part of the International Appalachian Trail.
Joining us on the West Highland Way is Karolina. I first met her while hiking the Camino Francés, and for those of you who've walked that trail, you might recognize her. She's from Poland, currently living in the Netherlands and wanted to hike the West Highland Way—in real life! So we arranged to meet and hike the West Highland Way together.
Karolina and I part ways just before the end of the West Highland Way. She continues on to the end of the trail in Fort William to start her journey back home in time for work (work!?) the next day. We, however, will detour off the West Highland Way to the highest point in Britain: Ben Nevis. Standing 4,409 feet (1,344m) above sea level, the views on a clear day are commanding. The Gaelic name translates into venomous mountain or mountain with its head in the clouds, both of which are accurate descriptions of the mountain!
After heading back down Ben Nevis, our walks continues on to the end of the West Highland Way in Fort William where we then pick up one of Scotland's newest trails: the Great Glen Way. The Great Glen Way was established in 2002 and runs from Fort William to Inverness through (not surprisingly) the Great Glen. It passes by and over many locks along the Caledonian Canal, and runs along the length of the most famous Scottish loch of them all: Loch Ness. Keep your eyes open for Nessie, the Lock Ness monster!
Our walk finally comes to an end in the historic town of Inverness. The Great Glen Way officially ends at Inverness Castle, but I'll walk you the short way to the train station where we'll catch the train back to Glasgow from whence we began our trek.
Stage Name
Length
(miles)
Position
(miles)
1.
Approach Trail: Glasgow to Milngavie
13.5
0.0 → 13.5
2.
WHW: Milngavie to Drymen
12.0
13.5 → 25.5
3.
WHW: Drymen to Rowardennan
14.0
25.5 → 39.5
4.
WHW: Rowardennan to Inverarnan
13.5
39.5 → 53.0
5.
WHW: Inverarnan to Tyndrum
12.5
53.0 → 65.5
6.
WHW: Tyndrum to Kingshouse
20.0
65.5 → 85.5
7.
WHW: Kingshouse to Glen Nevis
20.5
85.5 → 106.0
8.
WHW: Glen Nevis to Fort William
16.0
106.0 → 122.0
9.
GGW: Fort William to Gairlochy
11.0
122.0 → 133.0
10.
GGW: Gairlochy to Laggan
14.5
133.0 → 147.5
11.
GGW: Laggan to Fort Augustus
10.0
147.5 → 157.5
12.
GGW: Fort Augustus to Invermoriston
9.0
157.5 → 166.5
13.
GGW: Invermoriston to Drumnadrochit
15.0
166.5 → 181.5
14.
GGW: Drumnadrochit to Inverness
20.0
181.5 → 201.5