Tour Mont Blanc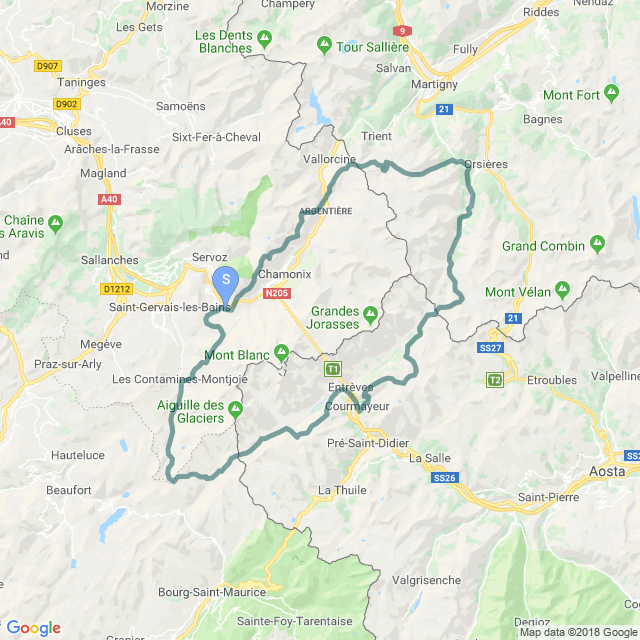 Hiked:
Aug 26, 2015—Sep 4, 2015
Walk Trail!
The Tour Mont Blanc is among one of the most popular hiking trails in Europe, and for good reason! The trail passes through three different countries: France, Italy and Switzerland. It circles around the Mt. Blanc, the highest peak in Europe, with spectacular and jaw-dropping views of the rugged Alps and the slow crawl of glaciers down from its heights.
This hike begins in the small French town of Les Houches, circling the Mont Blanc Massif in a counter-clockwise direction. You'll pass through a couple of towns before crossing into Italy, then later cross into Switzerland before crossing back into France to complete the hike back in Les Houches. It's a rugged trail, passing through seven valleys with 6.2 miles (10 km) of ascents and descents.
Although there is one main, official route around the mountain, there are several official variants. The variants are often times more remote and rugged then the main path, and since I'm all about getting the best and most spectacular views available, we'll take them every chance we get! Some of the variants are bad-weather bypasses, which tend to be easier and with less impressive views. You won't see any of those on this virtual walk, however!

Stage Name
Length
(miles)
Position
(miles)
1.
Les Houches to Les Contamines
11.2
0.0 → 11.2
2.
Les Contamines to French/Italian Border
15.5
11.2 → 26.7
3.
French/Italian Border to Courmayeur
15.2
26.7 → 41.9
4.
Courmayeur to Italian/Swiss Border
16.2
41.9 → 58.1
5.
Italian/Swiss Border to Champex
15.5
58.1 → 73.6
6.
Champex to Swiss/French Border
12.4
73.6 → 86.1
7.
Swiss/French Border to Les Houches
20.5
86.1 → 106.6