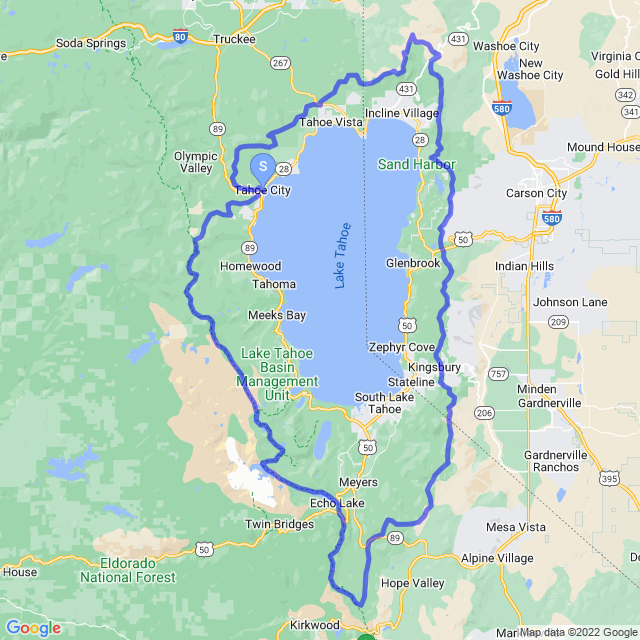 Hiked:
Jul 16, 2013—Jul 25, 2013
Walk Trail!
The Tahoe Rim Trail (TRT) extends over 160 miles (260 kilometers) along the mountain ridges encircling Lake Tahoe, passing through six counties in two states, following historic Native American paths and pioneer trails. Hikers, backpackers, equestrians and (where permitted) bicyclists explore pine forests of the Carson Range and the snowy peaks of the Pacific Crest. Visitors experience inspiring views of Lake Tahoe, the Great Basin Valleys to the east and the Sierra Nevada to the west. Set in silence and solitude, visual treats include flowering meadows, aspen groves and evidence of ancient glaciers and lava flows.
Hikers, out for the day or on a longer quest, will find several trailheads with brochures at trailhead bulletin boards. Trail elevations range from 6,240 feet to 10,338 feet above sea level (1,900 to 3,151 meters), with a 10% average grade.
Glenn Hampton, a recreation officer of the Lake Tahoe Basin Management Unit of the U.S. Forest Service, first proposed the Tahoe Rim Trail 1978, creating a volunteer organization called the Tahoe Rim Trail Fund, now known as the Tahoe Rim Trail Association. Since 1984, more than 100 miles of trail have been built or improved around the lake.
Construction of the trail began in July of 1984 and the last section was completed in September of 2001, almost entirely through volunteer effort.
Lake Tahoe Statistics
| | |
| --- | --- |
| Surface Area: | 192 sq mi (496 sq km) |
| Maximum Length: | 22 mi (35 km) |
| Maximum Width: | 12 mi (19 km) |
| Average Depth: | 1,000 ft (300 m) |
| Maximum Depth: | 1,645 ft (501 m), the second only to Crater Lake in the United States |
| Residence Time: | 650 years (the average time for a molecule of water to be recycled) |
| Shore Length: | 71 mi (114 km) |
| Surface Elevation: | 6,225 ft (1,897 m) |
Each day, approximately 1,400,000 tons of water evaporates from Lake Tahoe, or about 1/10th of an inch—enough to supply the daily water requirements of 3,500,000 people. If Tahoe were emptied out onto California, it would cover the entire state with nearly 14 inches of water.
The top six feet of the water level is controlled by a dam in Tahoe City—the only outflow from the lake. Water flows out along the Truckee River which, interestingly, will never reach an ocean. The Truckee River ultimately drains into Pyramid Lake, located about 40 miles northeast of Reno, which has no outlet. Water leaves instead by evaporation or sub-surface seepage.
Sixty-three streams flow into Lake Tahoe. Only one, the Truckee River, flows out. And the water is so clear that in some places, objects can be seen clearly 67 feet below the surface!
The Making of Tahoe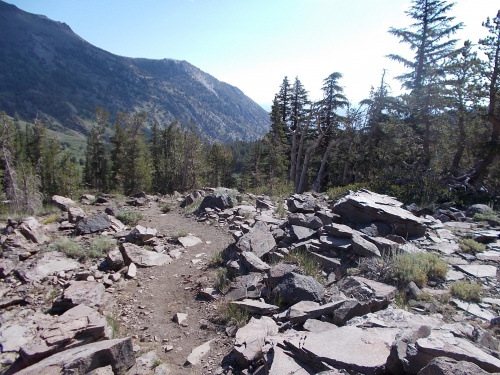 The Tahoe Rim Trail offers many glimpses into Tahoe's geologic past. The trail leads you to ancient volcanoes and remnant cinder cones. Along the trail you can glimpse glacially carved valleys at Squaw Valley and gaze into the depths of Lake Tahoe.
During the Jurassic period, 206 to 144 million years ago, volcanoes and an ancient ocean deposited many layers of rock, much like the layers of a cake. Volcanic rock and marine sediments from this period can still be found on Mount Tallac and other Tahoe Peaks.
120 to 90 million years ago, magma (molten rock) bubbled to the Earth's surface. This was caused by the pacific continental plate slowly pushing beneath the North American plate. Unlike volcanoes, this magma cooled slowly and solidified underground. The salt and pepper granite rock common in the Sierra Nevada are the remains of these plutons.
3 to 2 million years ago, cracks or faults began to form because the earth's crust was pulling apart. Imagine a loaf of bread pulling apart. Each slice of bread slides down its neighboring slice. This is similar to what happened here—slices of earth slipped along faults. The action created a series of mountain ranges and low valleys. Today, we call this the Basin and Range. The Sierra Nevada and the Lake Tahoe Basin form the western-most range and basin respectively.
What was to become Lake Tahoe was a fault basin with a river flowing north. So how did this deep valley fill with water?
Molten rock, or magma, welled-up along faults creating volcanoes. The volcanoes eventually blocked the river and the valley slowly began to fill with water. Today, these ancient volcanoes make up much of the north shore. Two of these old volcanoes, Mount Pluto and Mount Watson, are short side-trips from the Tahoe Rim Trail.
During the last ice age, nearly 800 thousand years ago, Tahoe was approximately 600 feet deeper. Imagine Lake Tahoe 600 feet deeper today—all the towns would be underwater! The increased depth was caused by an ice dam blocking the Truckee River Canyon. The dam was created by glaciers in Alpine Meadows or Squaw Valley. Look for the glacier carved U-shaped valleys of Squaw and Alpine near the Cinder Cone and Painted Rock.
The Big Bonanza!
In 1859, while the California gold rush was nearly over, silver was discovered in Nevada's Virginia Range. The Comstock silver strike began a new frenzy for wealth in Virginia City, Nevada.
Because the tunnels and shafts of the Comstock mines were soft, crumbling earth, they required a new design to prevent collapse. A simple invention called square-set timbering secured the mines. However, constructing and operating the mines demanded an enormous quantity of high quality timber and cordwood.
The demand for timber was insatiable. Logging companies responded by constructing an impressive network of railways, barges, wagon roads, flumes, reservoirs, wood-camps and mills. Much of this network centered on Spooner Summit and Incline Village.
Tahoe's east and south shores were the most heavily logged. The east shore was close to mills and transportation and the south shore was mostly flat, which made the trees easier to cut and haul.
The Carson Tahoe Lumber and Fluming Company dominated the Comstock market. Within 25 years, this single company harvested 750 million board feet of lumber and 500,000 cords of wood—enough to build 50,000 average homes.
By 1900, large-scale cutting had ended, but the effects of logging had not. It is estimated that during the Comstock era, soil erosion into Lake Tahoe increased ten-fold.
The forest has re-grown and now blankets Tahoe's mountains, but it is not the same forest. Where once grew stately Jeffrey and sugar pines, today the forest is dominated by white fir.
Land managers throughout the Tahoe Basin are working to restore the forest. Controlled burns and tree plantings help improve forest health and increase plant diversity.
Riding the Flume at Spooner Summit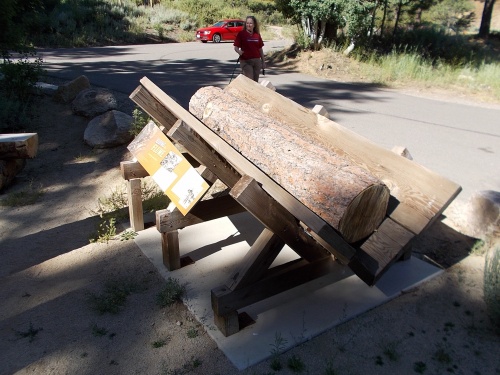 Narrow, V-shaped flumes were used to transport logs from Spooner Summit to the Carson Valley thousands of feet below.
Men working at the camp on Spooner Summit, or in even more remote forest locations, spent long days in isolation. When payday rolled around, the men were eager for social interaction and the comforts that "town" had to offer.
Some dared to exchange the 12-mile hike to Carson City for an exhilarating and dangerous trip down the Clear Creek flume, traveling at speeds up to 60 mph!
Getting to Lake Tahoe Wasn't Always Easy!
Imagine visiting Tahoe 100 or more years ago before the invention of the automobile. These early visitors traveled to Lake Tahoe by foot, horse, stagecoach, trail and steamboat.
People have used the mountain passes and trails that connect Tahoe to California's Great Valley and Nevada's Great Basin for hundreds of years. Native Americans walked to Tahoe each summer to hunt, fish and reconnect with their tribe.
Horses, wagon trains and stagecoaches were used by miners, loggers and other tradesmen traveling through Tahoe with good and services. The roads were rough and unpaved. Snow removal was done by hand or work animals—if at all.
The Transcontinental Railroad, completed in 1869, made the coast-to-coast journey more accessible for many. It also made access to Lake Tahoe a little less rugged. Passengers destined for Tahoe summer homes and resorts in the early 1900s would depart the train in Truckee. A smaller railroad brought passengers to Tahoe City where they transferred from train to steamboat. The steamers transported visitors to their final destinations around the lake.
It was not only the wealthy who enjoyed Tahoe's summer splendor. As early as the 1860s, working class people on their journey from California to Nevada's silver mines passed through Tahoe to enjoy the scenery, camp and fish.
From 1856 to 1876, John A. "Snowshoe" Thompson carried the mail twice a month from Placerville, California, to Genoa, Nevada—in winter. The route was 90 miles one-way. Thompson set out regardless of the weather and three days later he arrived in Genoa. He traveled on homemade "snowshoes" which today we call skis.
Today, most of us arrive at Tahoe by car or airplane, but there are still the adventurous who bicycle or hike to Tahoe. Interstate Highway 50 is a popular cross-country bicycle route and the Pacific Crest Trail, which shares 50 miles with the Tahoe Rim Trail, draws hikers from around the globe.
Desolation Wilderness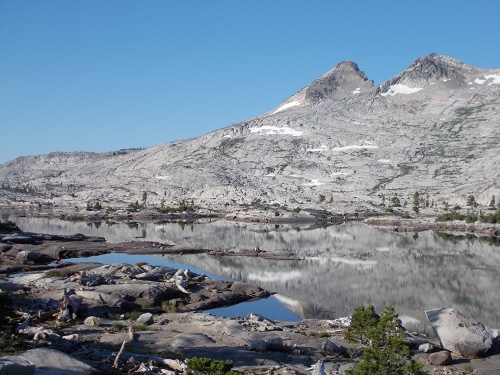 Desolation Wilderness is a landscape of rock and water, but what created this wondrous and barren landscape? Over millions of years, glaciers sculpted, scraped and carved what today we call Desolation Wilderness. Imagine a thousand-foot-thick sheet of ice slowly scraping away soil, rock and vegetation as it creeps downstream. These powerful glaciers carved the deep U-shaped valleys that cascade down to Lake Tahoe, and pocked the landscape with hundreds of lakes.
Look carefully along this section of the Tahoe Rim Trail (Stage 7) and you will see granite slabs gouged by a rock embedded within the passing glacier. You may also see rock that is polished and smooth. As the glaciers melted, they left behind enormous boulders set down where they are today. Many of Desolation's lakes have steep rock walls—this too is evidence of glaciation.
Although "Desolation" may seem a fitting name for this granite landscape, life is taking root. Trees and plants slowly break down the rocks for nutrients and build soil, allowing yet more plants to establish themselves. The glaciers disappeared 10-15 thousand years ago and yet the landscape is only sparsely vegetated. How long might it take to completely reforest Desolation Wilderness?
Da Ow A Ga
The Washoe called the Lake, "Da ow a ga," literally, "edge of the lake." Early white explorers mispronounced "Da ow" as "Tahoe," giving the Lake an English version of its Washoe name. To the Washoe, this was life sustaining water and the center of their world. Although they came to the Lake to fish and gather a variety of other food and materials, its pure waters provided much more: its sacred and precious waters breathed life into the land, the plants, the animals and into the people around it. The Lake became the focal point for many Washoe myths and legends. Annual gatherings around its shores promoted tribal identity. Social activities included not only fishing, but dancing, sporting contests, and a chance to meet prospective spouses.
There was a spiritual element in the fabric of the Washoe life, which grew out of subsistence cycles. Reverence for the Lake was fostered by the many things it provided them. The lake, particularly the undeveloped rim country, continues to link today's Washoe visitor to their cultural and spiritual heritage.

Stage Name
Length
(miles)
Position
(miles)
1.
Tahoe City to Brockway Summit
19.5
0.0 → 19.5
2.
Brockway Summit to Tahoe Meadows
21.7
19.5 → 41.2
3.
Tahoe Meadows to Spooner Summit
24.3
41.2 → 65.5
4.
Spooner Summit to Kingsbury Grade
15.9
65.5 → 81.4
5.
Kingsbury Grade to Big Meadow
24.8
81.4 → 106.2
6.
Big Meadow to Echo Lake
17.5
106.2 → 123.7
7.
Echo Lake to Barker Pass
32.7
123.7 → 156.4
8.
Barker Pass to Tahoe City
16.7
156.4 → 173.1