Sydney City Walk, Australia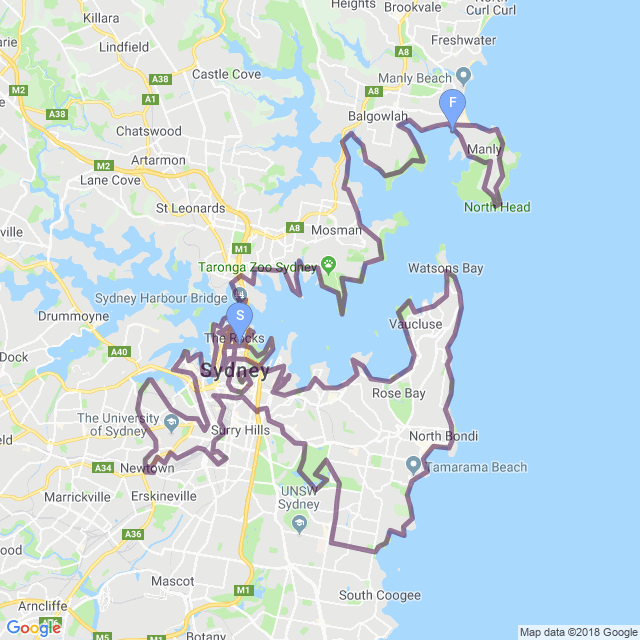 Hiked:
Mar 11, 2018—Mar 17, 2018
Walk Trail!
Welcome to the first of what I hope to be many more city walks on Walking 4 Fun! Part of my hope with this website is to inspire people to get out and walk! There's a lot to see and explore, even in your own backyards. I like backpacking and built this website around the idea of virtually hiking actual, long-distance trails, but most days, I'm in the front country. I work on computers, buy groceries, go out for lunch and visit the library. You know—everyday stuff we all do.
But it doesn't mean you can't have your own urban adventures. I do—frequently! I sold my car years ago and mostly travel by foot around town. Occasionally I take the bus or light rail or whatever passes for public transportation to new locations to explore. And when I'm a visitor to a new city, I like to explore the area on foot. The top tourist attractions are usually attractions for a reason, and I do like to visit them, but I also like seeing the off-the-beaten-path locations and natives in their native habitat, as it were.
And recently, I spent about a week exploring the largest city in Australia: Sydney. With the dramatic backdrop of the Sydney Opera House and the Sydney Harbour Bridge, I took to foot and explored as much of the city as I could. On foot. And took thousands of photos. Which I strung together to create this walking route.
Sydney History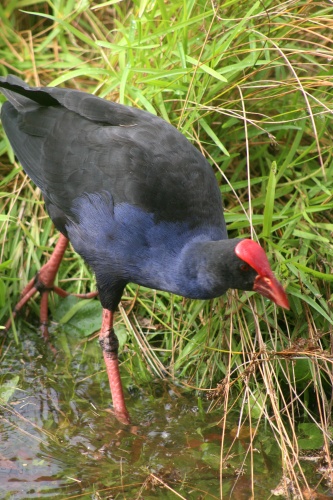 The first people to inhabit the area now known as Sydney were indigenous Australians known as Aboriginals that are believed to have first arrived as much as 50,000 years ago.
Their first meeting with the British occurred in 1770 when Lieutenant James Cook arrived. Since he was on a mission of exploration and not settlement, he claimed the land for the British and continued on his merry way.
The settlement (or invasion, as some people prefer to call it) of Australia by the British began in 1788. The British had for years sent convicts to the American colonies, but that practice ended when the United States declared its independence and Britain decided to send their convicts to Australia instead.
In 1788, the First Fleet of 11 ships and about 850 convicts arrived. Over the next four years, about 4,300 convicts had arrived. The colony was not founded on the principles of freedom and prosperity. Maps from this time show no prison building—the punishment for convicts was transportation rather than incarceration, but serious offenses were penalized by flogging and hanging.
The convict ship arrived in 1840, by which time Sydney had grown into a bustling town of 35,000. Gold was discovered in the colony in 1851 and with it came thousands more looking to make their fortunes.
The six colonies that eventually filled Australia agreed to form the Commonwealth of Australia which occurred January 1, 1901. Sydney, now with a population of 481,000, then became the state capital of New South Wales.
Sydney has continued to grow and prosper over the years. The 2000 Summer Olympics were held in Sydney, and at the time of this walk, the city sported a population of over 5,000,000 people.
About the Sydney City Walk
Since I had never been to Sydney before and didn't know much about what to see or where, I relied heavily on some brochures put out by the City of Sydney to plot my route. They have a dozen or so walks, which I merged together and added to or subtracted from to suit my purposes, but I can't recommend them enough if you're ever in the area. Check out History Walks or download the Sydney Culture Walks app. You'll find I used those sources heavily to explain the historical significance of various locations.
I can't say that you'll see every interesting thing there is in Sydney—it's much too big to ever do that! And I can't even say that this walk will take you through every neighborhood or district. I only had about a week to explore, but I hope it covers a representative sample of the wonders of Sydney.
And I hope it inspires some of you to explore your own cities. Pull up a map of where you live, find a green spot on the map marking a park that you've never visited and walk to it. Maybe it'll be boring and not very interesting, but maybe you'll discover a hidden work of art. Maybe you'll catch sight of a particularly interesting bird, or see a coyote dash into the bushes. There's always new places to explore, even in your own proverbial backyards.
And a note about spelling.... Australians spell things differently than I do. As a general rule, when I use a proper name, I'll use the spelling that a local would use. When I'm not using a proper name, I'll write with an American accent because, hey, I'm American and I'm supposed to have an adorable, American accent. =) So you'll see me write about the Sydney Harbour Bridge, then immediately refer to the "harbor" later in the same sentence. This is deliberate, so please don't send me typo reports about this sort thing. =)
Stage Name
Length
(miles)
Position
(miles)
1.
Downtown Core
15.9
0.0 → 15.9
2.
Pyrmont-Ultimo
6.4
15.9 → 22.3
3.
Glebe-Newtown
7.6
22.3 → 29.9
4.
Redfern-Haymarket-Paddington
9.7
29.9 → 39.6
5.
Centennial Park to Bondi Beach
11.3
39.6 → 50.9
6.
Bondi Beach to Watson Bay
6.5
50.9 → 57.4
7.
Watson Bay to Kings Cross
9.6
57.4 → 67.0
8.
Kings Cross to Luna Park
8.5
67.0 → 75.5
9.
Luna Park to Spit Bridge
11.4
75.5 → 86.9
10.
Spit Bridge to Manly Beach
6.5
86.9 → 93.4
11.
North Head
7.5
93.4 → 100.9