Superior Hiking Trail (a.k.a. SHT)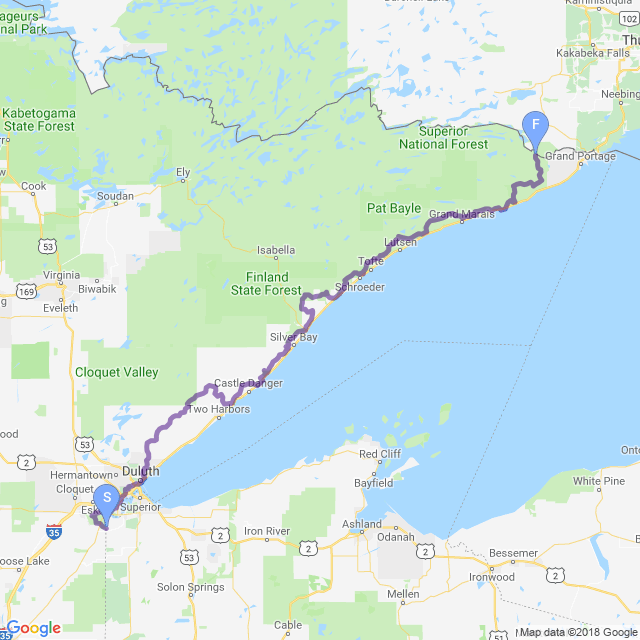 Hiked:
May 31, 2018—Jun 26, 2018
Walk Trail!
The Superior Hiking Trail, also known as the SHT, is a footpath in Minnesota between the Wisconsin and Canadian borders that more-or-less follows the North Shore and the ridge overlooking Lake Superior. It's a rugged path intended only for hiking. The low point is the shore of Lake Superior at 602 feet (183 m) above sea level while the high point is 1,829 feet (558 m). It's a beautiful trail with incredible overlooks of Lake Superior, countless lakes and ponds, wildflower explosions and wildlife from small chipmunks to giant moose. Although, perhaps, it might be worth avoiding the mosquitoes in June. ;o)
Lake Superior is the spectacular backdrop for the trail. It's the largest of the Great Lakes, and the largest freshwater lake in the world by surface area and the third largest by volume containing about 10% of the world's fresh water.
For thru-hikers, there are essentially two different southern terminuses to choose from: the Wisconsin border for about a 310 mile (499 km) trek to Canada which is called the total thru-hike, or starting at Martin Road a little north of Duluth for a 260 mile (418 km) trek to the Canadian border which is known as the traditional thru-hike. The reason for the this distinction is because there are essentially no official SHT backcountry campsites in those first 50 miles (80 km) of trail which makes that section difficult to do without support. This virtual walk covers the total thru-hike starting at the Wisconsin border, and you'll be glad it did because it's a wonderful section of trail including a segment that runs through the Duluth waterfront.
Inspiration for the SHT came from the Appalachian Trail, and construction began in the mid-1980s. The Superior Hiking Trail Association (SHTA) was formed in 1986 to manage the planning, construction and maintenance of the trail and is best source for up-to-date trail conditions and information.
On this hike, we also have a special guest hiker! Blueberry—who you might remember from the Appalachian Trail—will be joining us for this hike. We met a few years ago while thru-hiking the Appalachian Trail and, as it turned out, we both had an interest hiking this trail and decided to do it together. He flew in from Georgia, and I flew in from Seattle and we met up in Duluth from where we started our journey.
Also along the way, I ran into a reporter thru-hiking the trail (hello, Snowshoe!), and she's written a series of informative and entertaining articles about the trail which you can read starting at Baptism on the Trail.

Stage Name
Length
(miles)
Position
(miles)
1.
Jay Cooke State Park
15.5
0.0 → 15.5
2.
South Duluth
13.6
15.5 → 29.1
3.
Central Duluth
14.7
29.1 → 43.8
4.
North Duluth
7.6
43.8 → 51.4
5.
Martin Road to Normanna Road
13.8
51.4 → 65.2
6.
Normanna Rd to Fox Farm Rd
12.2
65.2 → 77.4
7.
Fox Farm Rd to Demonstration Forest
12.1
77.4 → 89.5
8.
Demonstration Forest to County Rd 301
15.2
89.5 → 104.7
9.
Country Rd 301 to Gooseberry Falls
14.9
104.7 → 119.6
10.
Gooseberry Falls to Split Rock Lighthouse SP
10.7
119.6 → 130.3
11.
Split Rock Lighthouse SP to Silver Bay
15.0
130.3 → 145.3
12.
Silver Bay to Tettegouche SP
11.1
145.3 → 156.4
13.
Hwy 1 to Lake County Rd 7
15.1
156.4 → 171.5
14.
Lake County Rd 7 to Crosby-Manitou SP
10.5
171.5 → 182.0
15.
Crosby-Manitou SP to Caribou Falls
8.5
182.0 → 190.5
16.
Caribou Falls to Temperance River/Tofte
16.3
190.5 → 206.8
17.
Temperance River to Oberg Mtn
11.8
206.8 → 218.6
18.
Oburg Mtn to Caribou Trail
13.6
218.6 → 232.2
19.
Caribou Trail to Cascade River
9.7
232.2 → 241.9
20.
Cascade River to Gunflint Trail/Grand Marais
15.3
241.9 → 257.2
21.
Gunflight Trail to Cook County Rd 14/Hostel
13.2
257.2 → 270.4
22.
Cook County Rd 14 to Judge Magney SP
11.0
270.4 → 281.4
23.
Judge Magney SP to Arrowhead Trail
13.5
281.4 → 294.9
24.
Arrowhead Trail to 270° Overlook
17.1
294.9 → 312.0