Appalachian National Scenic Trail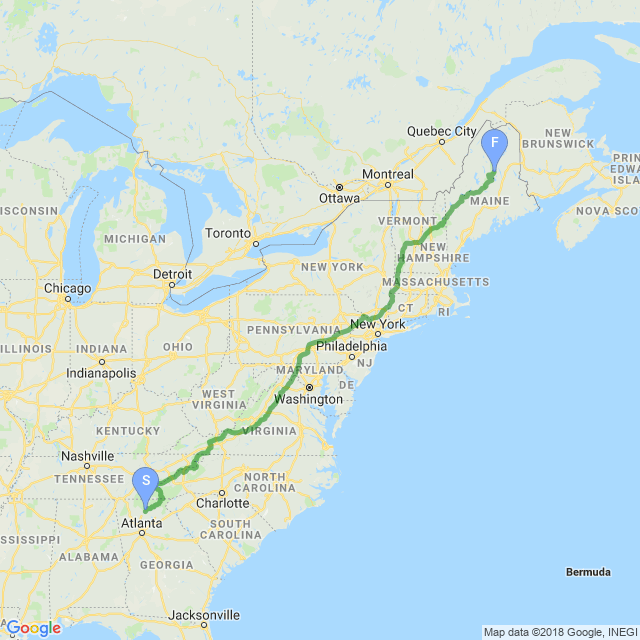 Hiked:
Mar 18, 2015—Aug 14, 2015
Walk Trail!
The Appalachian Trail, also known as the AT, is the granddaddy of long-distance hiking trails, winding its way over 2,000 miles (3,500 km) through 14 states from Georgia to Maine along the Appalachian Mountains.
The trail was conceived by Benton MacKaye in the early 1920s and October 7, 1923, the first section of trail near Bear Mountain, NY, was opened.
Myron Avery took up the cause and continued advocating for the trail and reigned as Chairman of the ATC for twenty years. Avery become the first person to hike the entire trail from end-to-end in 1936, although not as a thru-hike.
It wasn't until 1948 when the first documented thru-hike occurred. Earl Shaffer walked from Georgia to Maine in a single season—a feat that many people thought impossible at the time. Later, he then completed the first Maine-to-Georgia thru-hike. And 50 years after his first thru-hike hike, nearly 80 years old, Earl Shaffer hit the trail again in 1998 to thru-hike from Georgia to Maine making him the oldest person to have hiked the trail at the time.
The Appalachian Trail is historic, not just in its own right, but it also passes through Civil War and Revolutionary War battlefields. It follows old railroad beds and through the historic town of Harpers Ferry where John Brown's raid occurred. You'll pass many historic geographical landmarks such as the Potomac and Hudson Rivers, and over the top of Mount Washington where the world's highest sustained wind speed of 231 mph was recorded.
The trail passes through 14 states: Georgia, North Carolina, Tennessee, Virginia, West Virginia, Maryland, Pennsylvania, New Jersey, New York, Connecticut, Massachusetts, Vermont, New Hampshire and Maine. It passes through two national parks: Great Smoky Mountains and Shenandoah National Parks. It passes through a multitude of state and county parts, wilderness areas, and through lots of colored mountains: the Blue Ridge through Virginia, the Green Mountains of Vermont and the White Mountains of New Hampshire.
The trail is so long, you'll pass through several seasons. The trail starts in the winter in Georgia with trees barren of leaves and even a small snowstorm along the way. Then you'll hit the spring flowers and trees turning increasingly green. In the heat of summer, the trees are full of life, but also bugs and humidity. By the end of the trail, you'll start to see traces of autumn but, admittedly, I finished the hike before leaf-peeping season hit its stride. (We do have other trails such as the Long Trail for that, however!)
The Appalachian Trail is an adventure! Let's go walk it!

Stage Name
Length
(miles)
Position
(miles)
1.
Approach Trail
8.8
0.0 → 8.8
2.
Neel Gap
31.7
8.8 → 40.5
3.
Unicoi Gap
21.2
40.5 → 61.7
4.
Georgia-North Carolina Border
25.6
61.7 → 87.3
5.
Winding Stair Gap
31.3
87.3 → 118.6
6.
Nantahala Outdoor Center
27.5
118.6 → 146.1
7.
Fontana Dam
29.1
146.1 → 175.2
8.
Great Smoky Mountains South
41.0
175.2 → 216.2
9.
Great Smoky Mountains North
30.4
216.2 → 246.6
10.
Hot Springs, NC
36.7
246.6 → 283.3
11.
Allen Gap; Mom's Store
14.8
283.3 → 298.1
12.
Sams Gap
29.2
298.1 → 327.3
13.
Erwin, TN
24.5
327.3 → 351.8
14.
Carvers Gap
36.1
351.8 → 387.9
15.
US 19E (Elk Park and Roan Mtn)
14.8
387.9 → 402.7
16.
US 321, Shook Branch Recreation Area
33.3
402.7 → 436.0
17.
Tennessee-Virginia Border
38.3
436.0 → 474.3
18.
Mount Rogers
31.7
474.3 → 506.0
19.
Mt Rogers Visitor Center; Marion, VA
34.5
506.0 → 540.5
20.
Interstate 81; Atkins, VA
11.1
540.5 → 551.6
21.
Chestnut Knob Shelter
23.8
551.6 → 575.4
22.
US 52 (North Scenic Hwy), I-77
23.6
575.4 → 599.0
23.
VA 606, Suspension Bridge
18.5
599.0 → 617.5
24.
Pearisburg, VA
26.3
617.5 → 643.8
25.
VA 635, Bridge over Stony Creek
21.9
643.8 → 665.7
26.
Sinking Creek, VA 42
18.5
665.7 → 684.2
27.
Newport Rd (4 Pines Hostel)
26.8
684.2 → 711.0
28.
US 220, Daleville, VA
25.7
711.0 → 736.7
29.
Jennings Creek, VA 614
28.2
736.7 → 764.9
30.
James River, US 501, VA 130
28.6
764.9 → 793.5
31.
US 60, Buena Vista, VA
21.8
793.5 → 815.3
32.
VA 56, Tye River Bridge
25.4
815.3 → 840.7
33.
Rockfish Gap, Waynesboro, VA
29.9
840.7 → 870.6
34.
Browns Gap, Skyline 84.3
23.6
870.6 → 894.2
35.
Swift Run Gap, Skyline 65.5
21.8
894.2 → 916.0
36.
Thornton Gap, US 211, Luray, VA
35.6
916.0 → 951.6
37.
US 522, Front Royal, VA
27.7
951.6 → 979.3
38.
Virginia-West Virginia Border
36.6
979.3 → 1,015.9
39.
West Virginia
17.7
1,015.9 → 1,033.6
40.
Southern Maryland
21.9
1,033.6 → 1,055.5
41.
Northern Maryland
18.7
1,055.5 → 1,074.2
42.
Pine Grove Furnace SP
37.7
1,074.2 → 1,111.9
43.
Boiling Spring, PA
19.3
1,111.9 → 1,131.2
44.
Duncannon, PA
25.6
1,131.2 → 1,156.8
45.
PA 325, Clarks Creek
17.7
1,156.8 → 1,174.5
46.
501 Shelter, PA 501
28.8
1,174.5 → 1,203.3
47.
Port Clinton, PA
24.1
1,203.3 → 1,227.4
48.
PA 309, Blue Mountain Summit
26.3
1,227.4 → 1,253.7
49.
Lehigh Gap, PA 248
14.5
1,253.7 → 1,268.2
50.
PA-NJ Border, Delaware River
36.0
1,268.2 → 1,304.2
51.
Culvers Gap, US 206
28.1
1,304.2 → 1,332.3
52.
New Jersey High Point
15.5
1,332.3 → 1,347.8
53.
New Jersey-New York Border
28.5
1,347.8 → 1,376.3
54.
I-87, Arden Valley Road
17.9
1,376.3 → 1,394.2
55.
Bear Mountain Bridge
20.4
1,394.2 → 1,414.6
56.
Taconic State Pkwy Underpass
25.0
1,414.6 → 1,439.6
57.
New York-Connecticut Border
26.5
1,439.6 → 1,466.1
58.
Southern Connecticut, CT 4
22.6
1,466.1 → 1,488.7
59.
Northern Connecticut, CT-MA Border
28.2
1,488.7 → 1,516.9
60.
MA 23
23.2
1,516.9 → 1,540.1
61.
MA Turnpike, I-90
20.3
1,540.1 → 1,560.4
62.
Dalton, MA
19.4
1,560.4 → 1,579.8
63.
Mass-Vermont Border
27.6
1,579.8 → 1,607.4
64.
Stratton-Arlington Rd/Kelly Stand Rd
34.9
1,607.4 → 1,642.3
65.
VT 11, VT 30, Manchester Center
19.5
1,642.3 → 1,661.8
66.
VT 140
26.1
1,661.8 → 1,687.9
67.
Sherburne Pass, US 4, Rutland, VT
23.1
1,687.9 → 1,711.0
68.
VT 12, Barnard Gulf Rd
22.8
1,711.0 → 1,733.8
69.
VT-NH Border, Connecticut River
22.3
1,733.8 → 1,756.1
70.
NH 25A
34.2
1,756.1 → 1,790.3
71.
Kinsman Notch, Lost River Rd, NH 112
19.1
1,790.3 → 1,809.4
72.
Franconia Notch, North Woodstock
17.3
1,809.4 → 1,826.7
73.
Crawford Notch, US 302
27.7
1,826.7 → 1,854.4
74.
Pinkham Notch, NH 16
26.3
1,854.4 → 1,880.7
75.
US 2, Gorham, NH
21.1
1,880.7 → 1,901.8
76.
New Hampshire-Maine Border
16.5
1,901.8 → 1,918.3
77.
Grafton Notch, ME 26
14.6
1,918.3 → 1,932.9
78.
South Arm Rd (Andover)
20.4
1,932.9 → 1,953.3
79.
Rangeley, ME 4
26.4
1,953.3 → 1,979.7
80.
ME 27 (Stratton)
32.2
1,979.7 → 2,011.9
81.
West Carry Pond
23.0
2,011.9 → 2,034.9
82.
Caratunk, US 201
14.0
2,034.9 → 2,048.9
83.
Bald Mountain Pond
18.8
2,048.9 → 2,067.7
84.
Monson, ME 15
17.9
2,067.7 → 2,085.6
85.
Katahdin Ironworks Rd
29.8
2,085.6 → 2,115.4
86.
Jo-Mary Rd
33.2
2,115.4 → 2,148.6
87.
Nesuntabunt Mountain
19.7
2,148.6 → 2,168.3
88.
Abol Bridge, Penobscot River
21.2
2,168.3 → 2,189.5
89.
Baxter State Park
12.5
2,189.5 → 2,202.0