Skyharbor Fitness Trail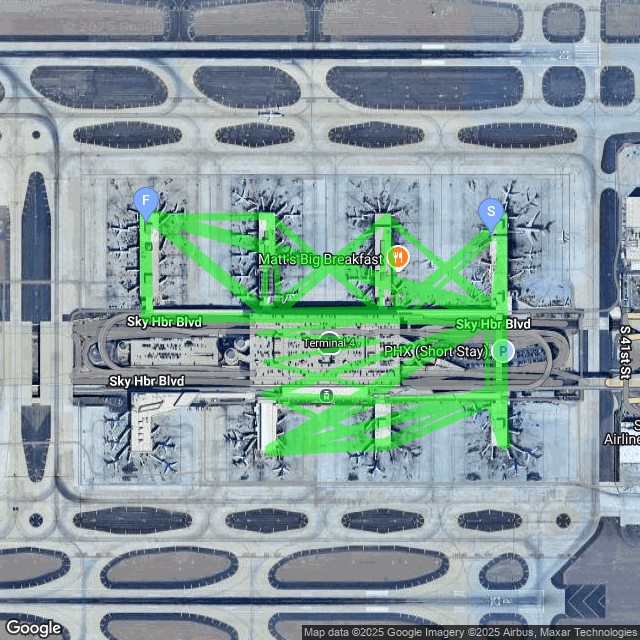 Hiked:
Jan 1, 2014—Mar 31, 2015
The great thing about walking is that it's an activity that you can do pretty much anywhere. I enjoy my long-distance hikes, but most of the time, I'm just like you walking around town and running errands between long bouts of sitting at a desk working on websites such as this one.
This 'hike' is dedicated to all you people who don't let work or travel or other excuses get in your way of walking! I probably fly more than most people, maybe averaging once or twice each month, and a great number of my flights wind up on US Airways with a layover in Phoenix's Sky Harbor International Airport. US Airways uses nearly all of the A and B gates of Terminal 4. Southwest Airlines gets most of the C gates. A smattering of other airlines with one or two gates are here, but US Airways and Southwest probably use about 95% of the gates in Terminal 4.
There are other terminals, but I'm almost never in them because there's no way to get to them without leaving security and being re-screened at the other terminals. But Terminal 4 is fairly sizable in its own right and—since I'm a walker at heart—I'll often walk from one end of the terminal to the other if for no other reason than to stretch my legs.
Which is when I stumbled onto a sign encouraging airport travelers to "Walk the Sky Harbor Fitness Trail." There's a fitness trail here?! But in all my walks, up and down every concourse, I'd never seen a fitness trail. It provided a website to get more information. I pulled out my laptop to checked it and quickly learned that the so-called "fitness trail" was nothing more than walking from one end of the terminal to the other—which I'd already been doing for years!
It strikes me as absurd that they'd call it a fitness trail at all. I would have expected little stations along the route like bars to do pull-ups or instructions on various exercises along the route. At the very least, it should be labeled and marked so people could know how to follow the route without having to look it up online! But except for the single billboard I happened to notice, there was absolutely no trace of a fitness trail that wound through the airport.
Sounded like a giant April Fools joke—except that it wasn't April and it wasn't a joke! Which is when I got the idea to add the Sky Harbor Fitness Trail as a new route option to Walking 4 Fun! It would be an April Fool's joke, whether the folks running Sky Harbor knew it or not! Create a ridiculous trail that sounds like a joke and by golly, I will turn it into a joke!
And thus was born this route. I started walking the Sky Harbor Fitness Trail every time I had a layover in Phoenix. Over and over again. Month after month. For about a year. I'd keep track of where I left off on my walk, then go back to that point during the next layover and continue walking. Well, okay, technically speaking, I detoured down to the end of every concourse which the "official" fitness trail does not, but it made things more visually interesting to take photos of shops, gates and people. As far as trails go, this one is kind of monotonous and I was trying to make it slightly less monotonous for you!
The first stage has my arrival to Phoenix from a short vacation in Mexico. As anyone who travels internationally knows, after you exit through customs and immigration, you'll find yourself on the wrong side of the security line. Because I was already outside of security, I made use of the opportunity to fully explore that part of the airport which I called the 'Approach Trail.'
After that, the trail goes over the same 3 miles over and over and over and over again.... (Google maps does not do a good job of showing this, however, so forgive how ugly they look for this trail!) I took these photos over the course of a year, and if you pay close attention to the photos, you'll see changes over time. When I started this walk, US Airlines and American Airlines were two distinctly separate airlines. Shortly after I started photographing the route, the two airlines merged and you'll start to notice more and more stuff changing from the US Airways brand to the American Airlines brand. Before, American wasn't represented in Terminal 4 at all. Zip, zero, zilch. But first a few American gates were added. Then airplanes started getting a new paint job whenever they went into heavy maintenance and sported the flashy new American livery. The displays listing flights used to all be US Airways flights, but over time more and more of them changed to American.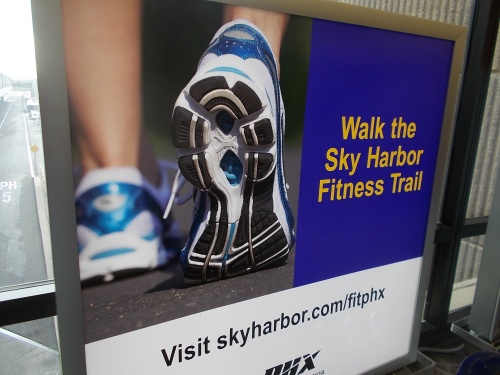 There were other changes as well. New restaurants opened, and bathrooms closed for remodeling. For several months, I watched construction crews tear up the taxiways and rebuild them, and I'd rush to photograph the progress with each layover. The seasons passed, and in one visit, I'd take photos of a Father's Day promotion, and in another layover, I'd take photos of Christmas promotions.
Even when the stores didn't change and the seasons didn't change, the time of day or weather often did. Some photos were taken late at night in the empty corridors and dark exteriors while others were in the scorching daytime light. Some days were cloudy and overcast while other days were clear. The morning sunrise would light up stores and murals that were hidden in dark shadows later in the afternoon.
As ridiculous as this "fitness trail" is, however, it has one important lesson: You can walk anywhere. Walking is one of the easiest, cheapest and best forms of exercise most people can ever find. It costs nothing and whether you can only hobble a couple of blocks or can push on for miles on end, it's easy to be lulled into thinking there's no time to walk—but even in a busy airport terminal, there's still space to walk, stretch your legs and get in a little exercise. And consider this: Airports are designed to reduce walking. They install moving sidewalks and escalators. They'll even drive you to your gate if you flag down one those people with an electric cart!
It's easy to be lulled into taking these shortcuts, but unless you're running late for a flight, don't. Go around the moving sidewalks. Use the stairs instead of the escalator or elevator. And when you get through security, don't just go to your gate and sit around waiting for your flight. Get up and walk! Explore the airport! When I flew back from the Arizona Trail, I took Great Lakes Airlines back to Phoenix and for the first time found myself in Terminal 2. My flight out was on US Airways, however, which required me to leave Terminal 2 and go to Terminal 4. There's a free shuttle bus between the terminals, but I chose not to use it and walked between the two—passing Terminal 3 along the way. It's not like I had anything better to do with my time! Taking a shuttle would have gotten me to Terminal 4 faster, but why? To sit around at the gate twiddling my thumbs?
So I created this route mostly as a joke—which is why you'll only see it listed for April Fool's Day—but I hope it inspires some of you to get out and walk a little bit more. You don't have to thru-hike the Pacific Crest Trail or snowshoe around Crater Lake to get some good exercise in. You can do it walking around your neighborhood or shopping mall. Create your own home-to-grocery-store-fitness-trail. Or create a home-to-a-great-place-to-watch-a-sunset-fitness-trail. Anywhere you walk can be turned into your own, personal fitness trail.
Now, this is important! Because this trail is largely a joke, I have no intention of listing it permanently as an option on Walking 4 Fun. The trail will be open for a few days—perhaps as long as a week— then it'll close again. If you want to do this trail, don't wait because it probably won't be around when you finish your current trail. Join this trail now!
The good news, however, is once you're on this trail, you won't get kicked off if you're only partway through when the trail closes. Do not leave the trail if you're only partway through, however, because if the trail closes when you're off of it, you will not be able to return to finish it.
And if you ever find yourself with a layover in Terminal 4 of the Sky Harbor International Airport, keep your eyes open for me walking their fitness trail. It's a lonely endeavor—in all the times I've walked this trail, I've never found a single other person systematically walking it—so by all means, join me!

Stage Name
Length
(miles)
Position
(miles)
1.
Approach Trail
2.0
0.0 → 2.0
2.
Loop 1
3.0
2.0 → 5.0
3.
Loop 2
3.0
5.0 → 8.0
4.
Loop 3
3.0
8.0 → 11.0
5.
Loop 4
3.0
11.0 → 14.0
6.
Loop 5
3.0
14.0 → 17.0
7.
Loop 6
3.0
17.0 → 20.0
8.
Loop 7
3.0
20.0 → 23.0
9.
Loop 8: Halloween!
3.0
23.0 → 26.0
10.
Loop 9
3.0
26.0 → 29.0
11.
Loop 10: Christmas!
3.0
29.0 → 32.0
12.
Loop 11
3.0
32.0 → 35.0
13.
Loop 12
3.0
35.0 → 38.0
14.
Loop 13
3.0
38.0 → 41.0
15.
Loop 14
3.0
41.0 → 44.0
16.
Loop 15
3.0
44.0 → 47.0
17.
Loop 16
3.0
47.0 → 50.0
18.
Loop 17: Valentines
3.0
50.0 → 53.0