Colorado Trail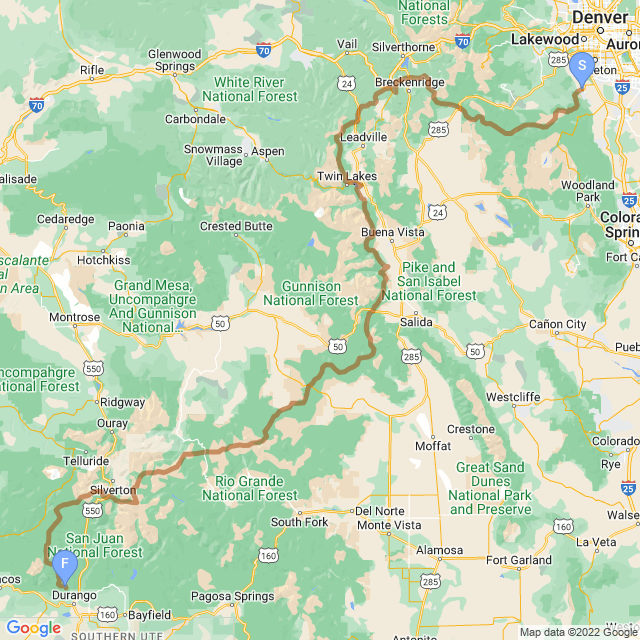 Hiked:
Aug 25, 2017—Sep 27, 2017
Walk Trail!
The Colorado Trail runs nearly 500 miles through the heart of the Rocky Mountains from Denver to Durango. It's among one of the most consistently high-altitude hiking trails anywhere with an average elevation above sea level exceeding 10,000 feet (3,000 m). It runs through a multitude of climates and landscapes from searing sun-baked landscapes to snow-covered mountains where temperatures plunge well below freezing.
And for this hike, there's a treat—I carried some upgraded camera equipment! The Canon EOS Rebel T6 is heavy, bulky and a pain-in-the-you-know-what to carry (along with it's 300mm zoom lens), but I carried it every step of the way this time around to get some amazing shots that my regular point-and-shoot camera couldn't do. You'll find long-exposure photos of flowing creeks and shots of the stars and the Milky Way that I could never get before. With the zoom lens, I could get close-up photos of animals, insects and birds that I had never been able to get before. It's a trail like no other on Walking 4 Fun!

Stage Name
Length
(miles)
Position
(miles)
1.
Waterton Canyon to S Platte Canyon
16.5
0.0 → 16.5
2.
To Little Scraggy TH
11.4
16.5 → 27.9
3.
To Rolling Creek TH
12.2
27.9 → 40.1
4.
To Long Gultch
16.4
40.1 → 56.5
5.
To Kenosha Pass
15.1
56.5 → 71.6
6.
To Goldhill TH (Breckenridge)
32.8
71.6 → 104.4
7.
To Copper Mountain TH
12.4
104.4 → 116.8
8.
To Tennessee Pass
25.8
116.8 → 142.6
9.
To Timberline Lake TH
13.4
142.6 → 156.0
10.
To Mount Massive TH
13.0
156.0 → 169.0
11.
To Clear Creek TH
21.5
169.0 → 190.5
12.
To Silver Creek TH
18.6
190.5 → 209.1
13.
To Chalk Creek TH
22.7
209.1 → 231.8
14.
To Highway 50 TH (Salida)
20.5
231.8 → 252.3
15.
To Marshall Pass TH
14.0
252.3 → 266.3
16.
To Sargents Mesa TH
15.4
266.3 → 281.7
17.
To Highway 114 TH
20.4
281.7 → 302.1
18.
To Saguache Park TH
13.7
302.1 → 315.8
19.
To Eddiesville TH
13.7
315.8 → 329.5
20.
To San Luis Pass
12.6
329.5 → 342.1
21.
To Spring Creek Pass (Lake City)
14.8
342.1 → 356.9
22.
To Carson Saddle TH
17.3
356.9 → 374.2
23.
To Stony Pass TH
16.0
374.2 → 390.2
24.
To Molas Pass (Silverton)
20.0
390.2 → 410.2
25.
To Bolam Pass TH
21.0
410.2 → 431.2
26.
To Hotel Draw TH
11.1
431.2 → 442.3
27.
To Kennebec Pass TH
20.6
442.3 → 462.9
28.
To Junction Creek TH (Durango!)
21.5
462.9 → 484.4