What is a Fitbit?
The Fitbit is the Cadillac of pedometers. It will track your step counts, your elevation gain, sleep patterns and (allegedly) it might even tie your shoelaces for you!
Okay, maybe they won't tie your shoelaces, but they do make awesome pedometers. The Fitbits are rainproof, sweat-proof and splash-proof—not a small concern if you're out walking in inclement weather. And they all use tri-axis technology which means you slip the pedometer into a pocket and forget about it for the rest of the day. Some Fitbit models can also track the amount of elevation gain you've climbed and monitor your sleep patterns for a more complete picture of your health, all of which can be uploaded wirelessly to the Fitbit website automatically.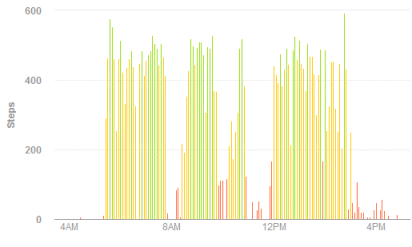 Fitbit sells several devices, each with different capabilities:
Fitbit Zip: The cheapest version available, the Zip is your standard, basic pedometer. It can count steps, distance traveled (in miles or kilometers), calories burned and tell you the time. If you're on a limited budget, this is the best choice for you.
Fitbit Flex: Besides counting steps, the Flex will also track your sleeping habits and act as a silent alarm. It won't track floors climbed like the Fitbit One does, but you can set goals for yourself and the Flex will tell you how close you are to your goals.
Fitbit Charge: Track steps, distance, calories burned, floors climbed, active minutes and sleep—and includes a caller ID!
Fitbit Charge HR: Same as the Fitbit Charge... except this one will also track your heart rate. (Thus, the "HR" in the name.)
Fitbit Blaze: Get fit in style with a smart fitness watch built with revolutionary features like PurePulse heart rate, connected GPS, on-screen workouts and more.
Fitbit Surge: This is the fanciest option available (and most expensive!), but it's a watch that will track GPS, continuous heart rate, all-day activity stats and sleep. Oh, and it includes smart notifications and music control.
All versions of the Fitbit will work well with Walking 4 Fun so use whatever best suits your purposes.