Mount Rainier's Wonderland Trail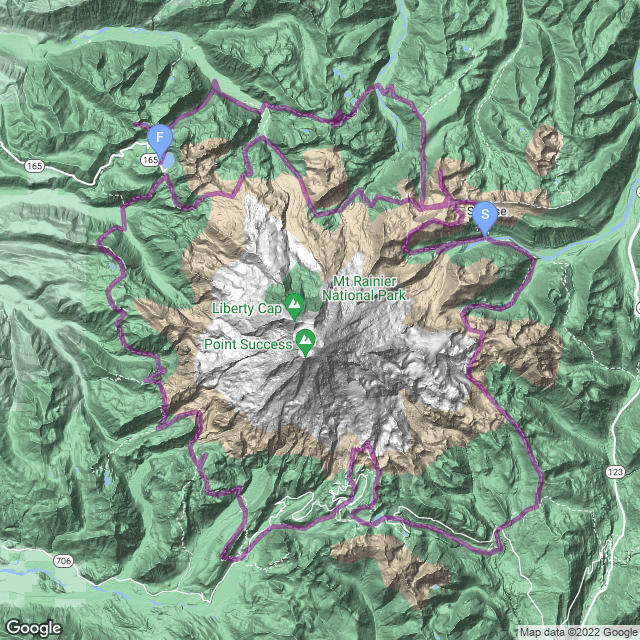 Hiked:
Aug 8, 2013—Aug 17, 2013
Walk Trail!
The Wonderland Trail is one of the most beautiful trails you'll ever find anywhere, spanning about 93 miles (150 kilometers) around Mount Rainier. "But Ryan!" I hear you thinking, "the trail you listed is much longer than 93 miles (150 kilometers)!" Yes, and that's because I took a whole lot of side trails off the Wonderland Trail to Spray Park, the Northern Loop, Paradise and more. The Wonderland Trail was the main route I followed, however, and it connected all of the side trips I added. The miles add up!
Mount Rainier is the tallest mountain in Washington state, peaking out at 14,411 ft (4,392 m). It contains 25 named glaciers—more glaciers than you'll see anywhere else in the contiguous United States, and which contain enough snow and ice to fill 1-cubic-mile of space. It is considered an active volcano—the most recent recorded volcanic eruption was between 1820 and 1854, but many eyewitnesses reported eruptive activity in 1858, 1870, 1879, 1882 and 1894. It's nearby neighbor, Mount St. Helens, put on quite a show as recently as 1980.
The Wonderland Trail, built in 1915, is entirely within the national park and passes through lowland forests to subalpine meadows. It's a rugged trail that most people would call 'strenuous' with over 22,000 feet (6,700 m) of elevation gain—and our trail additions added thousands more. We're not scared, though, are we? =)
An estimated 200 to 300 people a year complete the entire trail.

Stage Name
Length
(miles)
Position
(miles)
1.
White River to Sunrise Camp
8.3
0.0 → 8.3
2.
Sunrise Camp to Carbon River
15.8
8.3 → 24.1
3.
Carbon River to Mowich Lake (via Spray Park)
8.7
24.1 → 32.8
4.
Mowich Lake to Klapatche Park
17.9
32.8 → 50.7
5.
Klapatche Park to Longmire
18.9
50.7 → 69.6
6.
Longmire to Paradise
6.1
69.6 → 75.7
7.
Paradise to Box Canyon
15.1
75.7 → 90.8
8.
Box Canyon to Sunrise
19.3
90.8 → 110.1
9.
Sunrise to Carbon River (via Northern Loop)
19.7
110.1 → 129.8
10.
Carbon River to Mowich Lake
10.9
129.8 → 140.7