Trans-Catalina Trail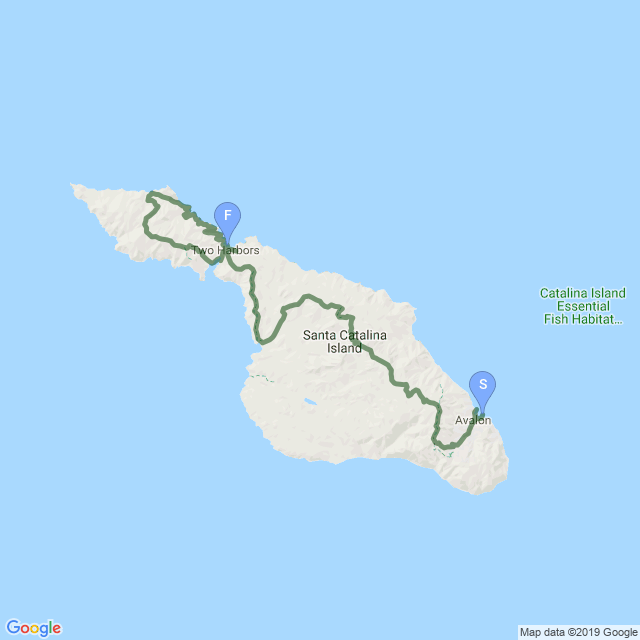 Hiked:
Dec 21, 2018—Dec 24, 2018
Walk Trail!
Catalina! It sounds so exotic! And exciting! And it is! There's sun! And beaches! And wind-swept vistas overlooking the vast Pacific Ocean! And bison! Yes, the mighty buffalo can be found roaming the island.
The full, proper name of the island is Santa Catalina Island, about 30 miles off the coast of Southern California. It's one of eight islands that known as the Channel Islands. Being separated from the mainland, about 50 unique species are only found on Catalina.
The modern era of the island didn't begin until the 1920s when William Wrigley, Jr—of chewing gum fame—developed Catalina into a tourist destination.
Today, about 4,000 people live on the island, and about 90% of them live in the island's only incorporated town of Avalon. The second-largest population center is the small, unincorporated town of Two Harbors.
The bison, in case you're curious, were introduced to the island in 1924 while filming a movie. Because of cost overruns, the powers-that-be decided it was cheaper and easier just to let them run loose instead of taking them back to the mainland. They're now popular with tourists and a cultural icon of the island. The bison herd once numbered as high as 600 but now the size is limited to about 150 for the ecological health of the island.
Since 1975, the non-profit Catalina Island Conservancy controls and protects about 90% of the island and championed the Trans-Catalina Trail.
Evolution of a Thru-Hike
It was a cold day in early December while I was at home in Seattle when I learned about the Trans-Catalina Trail—a 40ish-mile trail across sunny Catalina. How could I never have heard of this trail before? I grew up near there! I still have family near there! I had even been to the Channel Islands before (although not Catalina—my only visit before this was to Santa Rosa Island). And it so happened that I planned to travel to Southern California for the holidays in a couple of weeks. Why not swoop through the area and thru-hike Catalina Island at the same time?
So with less than two weeks planning, I read up about the trail, made reservations for campsites (they're required!) and reserved spots on the ferry boat to and from the island. I was set!
The night before my departure, I visited family—including my sister, Courtney, who said how jealous she was about my upcoming adventure and I told her, "Well you're welcome to join me!" I meant it, but with less than 12 hours advance warning, I figured it was unlikely.
But she surprised me by saying, "Yeah, let's do it!" We made a couple of calls to book her on the same ferries I had booked earlier and update my camping reservations for a party of two and we were ready!
Well, ready with reservations. Courtney spent the whole night packing, getting food and putting her affairs in order. I expected the whole trip to take four days and three nights, so it's not a huge commitment, but still...she had to let people know that she'd be gone for a few days.
And a mere eight hours after Courtney joined my trip, she picked me up at 2:30 in the morning for the several hour drive to San Pedro, CA, where our boat awaited. Tired from packing all night, she had me take the wheel, and I did the driving.
We arrived early—fortunately, traffic wasn't bad—and boarded our boat for Catalina. Let the adventure begin!
Planning a Real-Life Hike
For anyone planning to hike this trail in real life—it's short enough that you could easily complete it in less than a week—I can't urge you enough to avoid the busy summer months. It's hot—sometimes breaking 100°F (38°C) and crowded! Over one million people visit Catalina each year, but almost all of them seem to pick the summer months. In December, we enjoyed mostly empty campsites and pleasantly warm day temperatures (but a little nippy at night). If your schedule is flexible, check the weather forecast the week before and book your reservations around rain or other bad weather.
I'll also point out that although you are on an island, the terrain is very rough. The small island boasts a high point of over 2,000 feet (600m), and you'll go up and down thousands of feet each day. Water is very limited and shade is scarce. Trails that are more difficult certainly exist, but it's definitely not a walk on the beach either!

Stage Name
Length
(miles)
Position
(miles)
1.
Avalon
6.7
0.0 → 6.7
2.
Airport In the Sky
8.4
6.7 → 15.1
3.
Little Harbor
7.0
15.1 → 22.1
4.
Two Harbors
4.4
22.1 → 26.5
5.
West End Loop
13.5
26.5 → 40.0