Seattle City Walk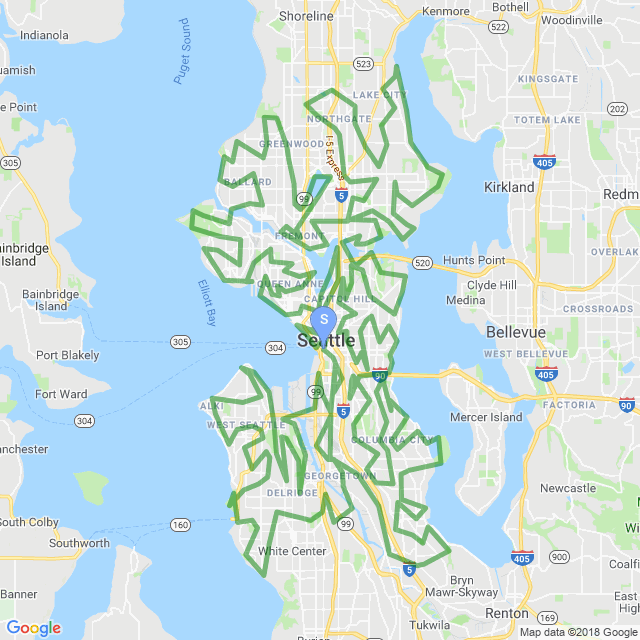 Hiked:
Jan 1, 2013—Dec 31, 2018
Walk Trail!
The Seattle area was first inhabited by Native Americans for at least 4,000 years before the first permanent European settlers. Arthur A. Denny and his group of travelers, subsequently known as the Denny Party, arrived from Illinois via Portland, Oregon, on the schooner Exact at Alki Point on November 13, 1851. The settlement was moved to the eastern shore of Elliott Bay in what is now Pioneer Square and named "Seattle" in 1852, after Chief Si'ahl of the local Duwamish and Suquamish tribes.
Logging was Seattle's first major industry, but by the late 19th century, the city had become a commercial and shipbuilding center as a gateway to Alaska during the Klondike Gold Rush. Growth after World War II was partially due to the local Boeing company, which established Seattle as a center for aircraft manufacturing. The Seattle area developed into a technology center beginning in the 1980s, with companies like Microsoft becoming established in the region (Microsoft founder Bill Gates was born in Seattle). Other notable companies founded in Seattle include Starbucks (1971), Costco (1983) and Amazon.com (1994).
Today Seattle has an estimated 713,700 residents (including me!), is the largest city in the state and the seat of the King County government. According to U.S. Census data released in 2018, the Seattle metro area's population stands at 3.87 million and ranks as the 15th-largest in the nation.
The city is situated on an isthmus between Puget Sound (an inlet of the Pacific Ocean) and Lake Washington, about 100 miles (160 km) south of the Canada–United States border. A major gateway for trade with Asia, Seattle is the fourth-largest port in North America in terms of container handling as of 2015.
Seattle also has a noteworthy musical history. From 1918 to 1951, nearly two dozen jazz nightclubs existed along Jackson Street, from the current Chinatown/International District to the Central District. The jazz scene developed the early careers of Ray Charles, Quincy Jones, Ernestine Anderson, and others. Seattle is also the birthplace of rock musician Jimi Hendrix, as well as the bands Nirvana, Pearl Jam, Soundgarden, Alice in Chains, Foo Fighters and the alternative rock movement grunge.
I had an idea to create a walking tour of Seattle since this is where I live and I figured it would be easy to take a day every now and then walking around and shooting photos. I started the walk in 2013, walking about one day each month for awhile. I took a bit of time off when I was out of town quite a bit thru-hiking the Appalachian Trail (among others), then decided in 2017 it was time to get this trail done and made a point of getting out at least once per week (at least those weeks when I was in town) until I finally finished it in 2018.
To create the route, I used all three of the guidebooks listed near the top of this page (and a fourth one I didn't list because I didn't really like it), and they're all great for ideas about where to hike. But if you pick up just one, I can't recommend Seattle Walks enough! It was my favorite by a long shot and I'm only disappointed that it hadn't been published when I first started walking this trail! It's packed with all sorts of information about the history of Seattle and places to go to see the history come alive. A lot of the historical information I provide in the second half of this walk comes from this book.
So you'll see a city in transition. Buildings under construction at the start of the trail are completed by the end of the trail. You'll see the seasons pass from fall into winter and then into spring. You'll see snow, rain, storms, sun and clouds. My goal was capture as much of Seattle as I could—from the wonderful views in the city to its dark, seedy underbelly. I hope you enjoy Seattle as much as I do! There are a lot of wonderful and interesting places to walk and explore!

Stage Name
Length
(miles)
Position
(miles)
1.
Downtown
10.5
0.0 → 10.5
2.
Belltown
7.5
10.5 → 18.0
3.
South Lake Union / Eastlake
8.3
18.0 → 26.3
4.
Seattle Center / Waterfront
6.2
26.3 → 32.5
5.
South Queen Anne
8.9
32.5 → 41.4
6.
North Queen Anne
8.7
41.4 → 50.1
7.
Magnolia
11.5
50.1 → 61.6
8.
Discovery Park
6.8
61.6 → 68.4
9.
Ballard
13.5
68.4 → 81.9
10.
Crown Hill / Greenwood
9.0
81.9 → 90.9
11.
Woodland Park / Green Lake
9.3
90.9 → 100.2
12.
Fremont / Wallingford
10.6
100.2 → 110.8
13.
Ravenna / Maple Leaf
9.1
110.8 → 119.9
14.
Northgate / Pinehurst
9.2
119.9 → 129.1
15.
Wedgwood / Lake City
8.1
129.1 → 137.2
16.
Cedar Park / Sand Point
10.2
137.2 → 147.4
17.
Bryant / Laurelhurst
10.1
147.4 → 157.5
18.
University District
12.0
157.5 → 169.5
19.
Montlake / Madison Park
13.3
169.5 → 182.8
20.
Capitol Hill
9.5
182.8 → 192.3
21.
First Hill / Central District
12.7
192.3 → 205.0
22.
Madrona / Leschi
8.6
205.0 → 213.6
23.
North Beacon Hill
7.5
213.6 → 221.1
24.
Beacon Hill
12.1
221.1 → 233.2
25.
Mount Baker
8.0
233.2 → 241.2
26.
Columbia City / Seward Park
12.3
241.2 → 253.5
27.
Rainier Beach
11.9
253.5 → 265.4
28.
Rainer View / Boeing Field
7.7
265.4 → 273.1
29.
Georgetown
10.9
273.1 → 284.0
30.
South Park / Highland Park / Roxhill
8.6
284.0 → 292.6
31.
Arbor Heights / Fauntleroy
12.1
292.6 → 304.7
32.
Gatewood / High Point
7.3
304.7 → 312.0
33.
West Seattle
8.2
312.0 → 320.2
34.
Alki
12.9
320.2 → 333.1
35.
Delridge
13.4
333.1 → 346.5
36.
SoDo / International District
12.4
346.5 → 358.9