Lone Star Hiking Trail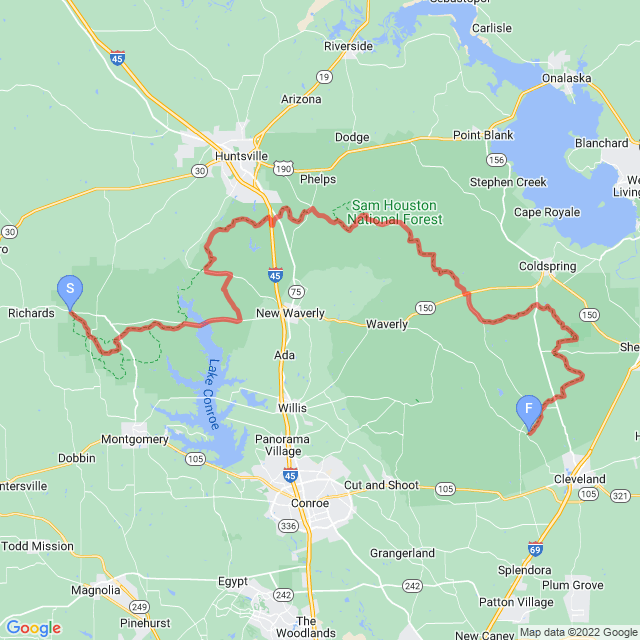 Hiked:
Feb 23, 2021—Mar 3, 2021
Walk Trail!
The Lone Star Trail, or—more officially, the Lone Star Hiking Trail (LSHT)—is the longest continuously marked hiking path in Texas. Which, admittedly, isn—t particularly long, and officially clocks in at less than 100 miles when I hiked the trail. Our route clocks in at just over 100 miles, however, due to a necessary detour from a washed out bridge.
This trail is located a little way north of Houston and just a few miles south of Huntsville and runs through the entirely of the Sam Houston National Forest. Trail construction began in 1966 and was officially completed in 1978, although re-routes and changes have occurred since then. The trail can be hiked year-round, but the summer months can be oppressively hot and swarming with mosquitoes and ticks so most people prefer to hike it in the winter months. At least that was certainly my plan!
It's a delightful little hike to do when many of the high-altitude or northern parts of the world are buried in snow—and when you're trapped within the United States during a pandemic looking for a nice hike in the winter that does not require snow gear. ;o)
As it happened, the week before I started this trek, the Storm of the Century struck Texas plunging temperatures into the single digits and causing massive power outages and broken water pipes. The hotel I stayed at the night before starting this event had no hot water for a shower due to storm damage—but I joked that there "better be hot water when I get done" because I will need a shower in a bad way by that point!
Fortunately, however, more normal temperatures prevailed during my trek and the snow from the week before had already melted. Which is just as well because I do not think I could have survived the extreme temperatures from just a few days earlier! Unfortunately, it was overcast during nearly the entirety of my hike causing my photos to look a bit two-dimensional and monotone. I fear that my photos don't really do this trail justice.
The rolling terrain makes it easy to get lost in one's thoughts, the beautiful trees are begging to be climbed (assuming you have the proper gear for that sort of thing, which I did not). I wish I could report taking some great photos of armadillos, cardinals, alligators and other wildlife, but alas, I did not see much. They are out there, but maybe they were still repairing their own homes from the storm damage the week before. Cardinals I saw frequently, but I could never get close enough for a decent photo through the often times thick brush.
But if you're ready to explore some of the best wilderness that Texas has to offer, step right up! You have come to the right place!

Stage Name
Length
(miles)
Position
(miles)
1.
Wilderness Section
8.7
0.0 → 8.7
2.
Kelly Section
7.1
8.7 → 15.8
3.
Conroe Section
17.7
15.8 → 33.5
4.
Huntsville Section
8.6
33.5 → 42.1
5.
Phelps Section
8.2
42.1 → 50.3
6.
Four Notch Section
9.3
50.3 → 59.6
7.
Big Woods Section
8.4
59.6 → 68.0
8.
Magnolia Section
12.3
68.0 → 80.3
9.
Big Creek Section
7.6
80.3 → 87.9
10.
Tarkington Section
8.6
87.9 → 96.5
11.
Winters Bayou Section
5.5
96.5 → 102.0