Crater Lake Trail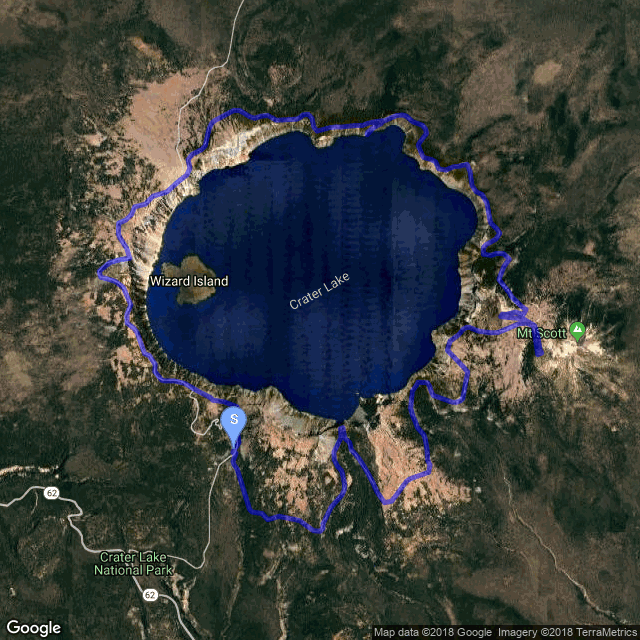 | | |
| --- | --- |
| Length: | 36.0 miles |
| Steps: | 81,658 steps |
| Burned: | 4,627 calories |
| Hiked: | Apr 22 to Apr 25, 2013 |
Walk Trail!
Crater Lake is, technically speaking, not a crater at all. It's a caldera, formed after a giant volcanic eruption that left an empty cavity once filled with lava. The mountain essentially caved in on itself. With no streams flowing into or out of the caldera, it slowly filled up with precipitation for hundreds of years creating what we now know as Crater Lake. Because no streams bring debris or sediment into the lake, the water is unusually pure and clear; and because no streams recycle the water in the lake, the water that is there takes about 250 years completely recycle through evaporation and leakage.
Crater Lake is also the deepest lake in the United States and among the deepest in the world at nearly 2,000 feet (600 meters). Comparing average depths among the world's lakes whose basins are entirely above sea level, Crater Lake is the deepest. Covering about 20 square miles, it has only frozen over twice in recorded history. Deep lakes with relatively little surface area very rarely freeze, and Crater Lake is no exception.
About half a million people visit Crater Lake National Park each year, and the vast majority of those visit in July and August. Crater Lake gets an average of 44 feet (13 meters) of snowfall each year—an astonishing amount that closes the rim road around the lake for most of the year. However, for a relatively small group of hearty individuals willing to brave the cold, snow and the risk of avalanches, it is still possible to ski or snowshoe around the lake all year long. In the winter of 2012, about 70 skiers and 20 snowshoers did just that. It's not an easy trek, but the rewards are miles of solitude, no loud traffic and Crater Lake at its most beautiful.
I made the trek around Crater Lake with Leora, and quite a few of the photos in this set were taken by her. If I'm in a photo, she definitely took the photo! And if she's in it, then I definitely took the photo. The rest of the photos could be by either of us. =)
To really get in the spirit of this hike, save this walk for the winter and strap on some snowshoes while trekking around after a good dumping of snow. It's not required, obviously, but trekking through snow is an exhausting business, but you shouldn't let a little snow stop you from getting out and walking!
About this Walk
This route starts at the park's headquarters, just under the rim of Crater Lake, and largely follows the Rim Road clockwise around Crater Lake. We'll take a few detours along the way including a hike down to the lake's surface along the Cleetwood Cove Trail, to the top of Cloudtop Peak and a failed attempt at reaching the summit of Mount Scott—the highest point in Crater Lake National Park.
Want to read the poorly-edited blog behind these photos? They're online at:
Stage Name
Length
(miles)
Position
(miles)
1.
Raven Trail and West Rim Drive
7.0
0.0 → 7.0
2.
To Cleetwood Cove
6.5
7.0 → 13.5
3.
To Mount Cloudtop
7.5
13.5 → 21.0
4.
To Phantom Ship Overlook
6.5
21.0 → 27.5
5.
The Final Leg
8.5
27.5 → 36.0